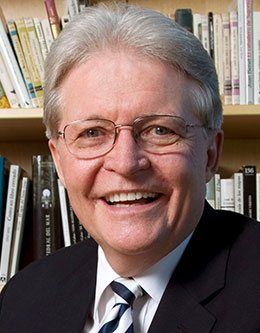 Ray T. Clifford
As a young man, Ray T. Clifford served a mission in Austria for The Church of Jesus Christ of Latter-day Saints. His experiences there shaped interests in both language and gospel service. Learning the German language was a challenging, humbling, and rewarding experience, as has been the case with every language he has studied—whether it be a language of the world or the language of the Spirit.
Clifford received his PhD in 1977 from the University of Minnesota. His expertise has given him the opportunity to serve his country and community in many ways, including as the chancellor of the Defense Language Institute in Monterrey, California. He joined the faculty at Brigham Young University in 2004 and now serves as the director of the BYU Center for Language Studies.
Most of Clifford's research has focused on language assessment. The studies that he designed have empirically validated the ACTFL (American Council on the Teaching of Foreign Languages), ILR (Interagency Language Roundtable), and STANAG (Standardization Agreement) language-proficiency scales for reading and listening proficiency—the only studies to have done so. Here at BYU, he has led the university's efforts to expand the number of foreign language courses taught. He has also led the initiative to recognize BYU students' second-language skills through an official certification program.
Clifford's professional honors include many national and international tributes, but he feels that his most important honors are his wife and their children and grandchildren.
---
---