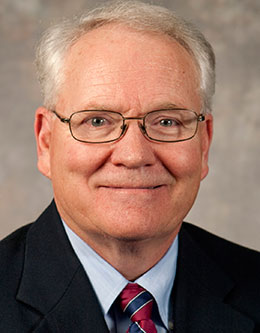 Ray L. Huntington
Ray Huntington graduated from Springville High School and attended Brigham Young University his freshman year before accepting a call to serve in the British South Mission. Following his mission to England, he returned to BYU, where he met and married his wife, Sandra. They both attended school and graduated together with their bachelor degrees.
Following graduation from BYU, he and his wife moved to Spanish Fork, Utah, where Brother Huntington began full-time teaching in the Seminary and Institute Program of the Church. Following teaching assignments in Spanish Fork, Springville, and Provo, Brother and Sister Huntington accepted a one-year teaching assignment at the BYU Jerusalem Center. The one-year teaching assignment was to be the first of several years of teaching and administration in the Jerusalem Center.
In 1990 Brother Huntington began working on his PhD at BYU, and, following its completion, he was hired in 1994 to teach full-time in the Ancient Scripture Department. He has continued his involvement in the Jerusalem Center, teaching courses there in 1997 and 1999. In 2007 he and his wife were asked to help reopen the Jerusalem Center following its closure in 2001. From 2007 to 2009, and again in 2011, Brother Huntington served as the associate director of the Jerusalem Center.
He and his wife, Sandra, are the parents of three sons and the grandparents of ten grandchildren.
---
---