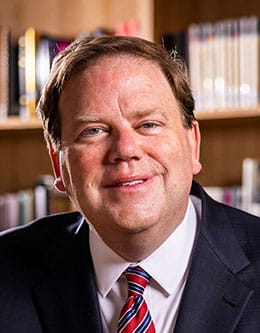 Reid L. Neilson
Dr. Reid L. Neilson was appointed the assistant academic vice president for religious scholarly publications at BYU in August 2022. He oversees the Neal A. Maxwell Institute for Religious Scholarship, the Religious Studies Center, and BYU Studies.  
Dr. Neilson grew up in Orange County, California. He served a full-time mission in the Japan Sapporo Mission and went on to receive his bachelor's degree in international relations from BYU in 1996, after which he worked for Arthur Andersen's Strategy, Finance, and Economics Division; Walt Disney's Strategic Planning Division in Tokyo; and the University of Michigan Business School's Asia-Pacific Human Resources Partnership. He gained master's degrees in American history and international business from BYU in 2001 and 2002. At the University of North Carolina at Chapel Hill, he earned his doctorate in religious studies and was named an International Studies Scholar for Tomorrow fellow. He also went on to complete the Harvard Business School's General Management Program. 
Dr. Neilson began his career as an assistant professor of Church history and doctrine at BYU in 2006 and received the university's Young Scholar Award that same year. He was an assistant Church historian and recorder of the Church before serving as the mission president of the Washington, DC North Mission from 2019 to 2022. He was also the managing director of the Church History Department from 2010 to 2019, during which he served on the editorial boards of the Deseret Book Company, the Joseph Smith Papers, and the Church Historian's Press. He is the author and award-winning editor of more than 30 books and has presented several papers at various academic conferences. 
Dr. Neilson lives in Bountiful, Utah, with his wife, Shelly. They have five children and enjoy skiing and traveling internationally as a family. 
---
---