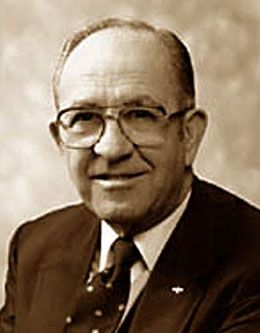 Rex C. Reeve Sr.
The life of Elder Rex C. Reeve Sr. is marked by his close association with several presidents of the Church. From taking a courtship and marriage class from David O. McKay while attending LDS Business College to evenings spent with Joseph Fielding Smith over a bucket of ice cream, Elder Reeve was guided by the examples of these men in his service to the Church, to his profession, and to his family.
Growing up in Hinckley, Utah, during the Great Depression, Elder Reeve quickly learned that he would need to receive a college education to live the life he wanted. He spoke of the experience of leaving home in his BYU devotional "The Whole Armor of God." The decision to further his education gave him the opportunity to build his own testimony outside of the pioneer legacy of his ancestors.
Elder Reeve left Hinckley to attend Snow College before going on to LDSBC in Salt Lake City. While at the latter, he met his future wife, Phyllis Mae Nielsen, at a dance and was immediately in love. The two courted for a year and shared a variety of powerful experiences, including taking President McKay's class on marriage. The couple used the lessons they learned in that class throughout their lives to bless and strengthen their marriage and family. When asked, Elder and Sister Reeve spoke eagerly about their pride in their seven accomplished children.
After finishing his education, Elder Reeve worked as a purchasing agent and safety director at Arden Sunfreeze Creameries, which later became Meadow Gold Dairy. It was the beginning of a successful business career that would allow him to serve in a number of industries and capacities. He also worked with the Boy Scouts of America, and he was awarded the Silver Beaver for his decades of service in the Scouting program.
Over his lifetime, Elder Reeve served as bishop, stake president, stake patriarch, regional representative, president of the California Anaheim Mission, and member of the First Quorum of the Seventy. He was given emeritus status in 1989 after serving as the executive administrator of the British Isles and of South Africa, as well as the area president over the North America Northeast, North America Central, and North America Northwest Areas.
Throughout his life, Elder Reeve bore powerful testimony of the Restoration of the Lord's Church. He held a firm belief in the priesthood callings of Joseph Smith and the preceding presidents of the Church. He bears his testimony in the devotional "The Lord's Strange Act" and encourages his listeners to become a part of the Lord's work in saving their brothers and sisters.
---
---