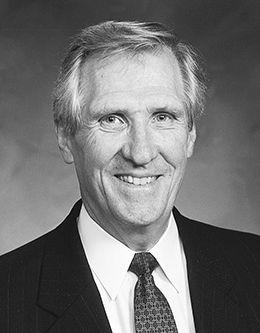 Rex D. Pinegar
Rex D. Pinegar was born on September 18, 1931, in Orem, Utah. He was a twin and one of twelve children born to John F. and Grace Murl Ellis Pinegar. Pinegar was raised in the small agricultural community of Spanish Fork, Utah, where he gained a strong work ethic by working with his siblings on local orchards and farms in his youth. When he was twelve, he began working with two of his brothers at a creamery, and in high school he worked with a construction company. However, his early life did not consist totally of work; he made room for fun as well, playing football and joining the wrestling team in high school. A well-rounded boy, Pinegar was also active in his Church callings and Scouting activities and was invested in his schooling.
Pinegar graduated from high school in 1949 and then entered the U.S. Navy for four years, spending the majority of his service in the Pacific. Upon his return home, he enrolled at Brigham Young University, hoping to become a commercial artist; however, after his first year, he decided to become a teacher instead—which, incidentally, was a secret wish of his mother's. During this time, Pinegar also reconnected with Bonnie Lee Crabb, who had grown up in the same ward as Pinegar in Spanish Fork. The two were married in the Salt Lake Temple on January 24, 1955. The newlywed couple did not have enough money for the both of them to attend college, so Bonnie dropped out in order for Pinegar to study. Although she never returned to school herself, Bonnie "nurtured the whole of her family [at BYU]," as all six of her children would attend the university.
After Pinegar received his bachelor's degree from BYU, the Pinegar family relocated to California so that Pinegar could pursue a master's degree from San Francisco State College and a doctorate in education from the University of Southern California. In 1967 Pinegar returned to BYU as a member of the special education faculty; he later became chairman of educational psychology in the College of Education. While at BYU, he also became a member of the Church's Deseret Sunday School Union general board.
In 1971 Pinegar was called to preside over the North Carolina–Virginia Mission at the same time that his twin brother, Max, was called as a mission president in the Netherlands. Pinegar, who never had the opportunity to serve a full-time mission himself, said, "To serve as a mission president is a wonderful, rewarding experience for me and my entire family. Our association with our faithful missionaries and members has been a choice blessing for us." However, President Pinegar was only able to serve in that position for a year before he was called as a member of the First Council of the Seventy in 1972. When that council was replaced by the Presidency of the Seventy in 1976, Elder Pinegar became one of the inaugural members of the presidency.
As a general authority seventy, he served as the president of the North America Southwest Area as well as in the Asia and North America Southeast Area Presidencies. Other callings include second counselor in the Young Men General Presidency and the senior president of the Seventy from 1993 to 1995. Elder Pinegar participated in groundbreaking ceremonies for temples in Oklahoma City, Oklahoma; Reno, Nevada; Lubbock, Texas; and Snowflake, Arizona. He was granted emeritus status in 2001.
Throughout his tenure as a general authority seventy, Elder Pinegar delivered six addresses at BYU devotionals. Speaking on topics that helped students and faculty develop their moral characters, achieve goals, and establish a relationship with Christ, Elder Pinegar bore powerful testimony of the foundational principles of the gospel.
---
---