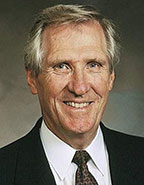 Rex D. Pinegar
Elder Rex D. Pinegar was called as a member of the First Council of the Seventy in October 1972. He was later named as a member of the First Quorum of the Seventy in October 1976. From 1989 to 1995 he served as a member of the Presidency of the Seventy, and for the last two years of that time he served as its senior president.
Elder Pinegar also served as president of the North America Southwest Area with responsibility for Church matters in that region. He earlier served in the Asia, North America Southeast, and North America Southwest area presidencies.  He was given emeritus status in 1995.
Prior to his call as a General Authority, Elder Pinegar served as chairman of the Department of Educational Psychology at Brigham Young University. He received his doctor of education degree from the University of Southern California.
Elder Pinegar and his wife, Bonnie Lee Crabb Pinegar, are the parents of six children.
Show More