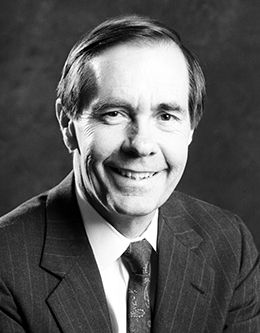 Rex E. Lee
Rex Edwin Lee was born February 27, 1935 in Los Angeles, California, but grew up in the small town of St. John's, Arizona. Rex E. Lee's small-town beginnings contrasted sharply with big dreams and aspirations; his determination and intellect would carry him far in business, public service, scholarship, and Church service. More than that, he would be carried into the hearts of many who knew him.
Lee served a mission for The Church of Jesus Christ of Latter-day Saints in Mexico from 1955 to 1958. While there, he met Janet Griffin, whose father worked in the United States Embassy in Mexico. Rex and Janet reconnected after his mission, while they were both attending Brigham Young University, and they were married the following year. They would have seven children together, two sons and five daughters.
After graduating as valedictorian and student body president in 1960, Rex E. Lee attended the University of Chicago Law School, where he earned his J.D. in 1963. Lee would also eventually earn five honorary doctor of law degrees. In 1963 he spent a year as a clerk for Supreme Court Justice Byron R. White. He then began work as a partner in a Phoenix law firm.
Within a decade of his career, Rex E. Lee's work began to take on a much grander scope. In 1971, he returned to Brigham Young University to found the J. Reuben Clark Law School, serving as the dean until 1975. His founding leadership set the stage for that school to become a consistently nationally ranked program within a few decades of its inception. From there, he turned his attention to a national stage, serving for two years as the assistant attorney general in the Civil Division of the United States Department of Justice, then for four years as the solicitor general of the United States under the Reagan administration. He was highly successful in that office, not only winning the vast majority of cases brought before the Supreme Court but also winning the respect of many of his colleagues. Justice White, who knew Lee well because of his clerkship years earlier, remarked that he was an "experienced, careful, and brainy advocate, and he was the epitome of integrity." That integrity was not always popular, but when criticized for unpopular stances Lee responded, in his characteristically straightforward manner, "I'm the solicitor general, not the pamphleteer general."
In 1985 Rex E. Lee became a partner in the law firm of Sidley and Austin. Beginning the same year, he held the George Sutherland Chair of Law at BYU, and from that time he taught Constitutional Law and maintained a private appellate practice in which he argued almost exclusively before the U.S. Supreme Court. In total, throughout Rex E. Lee's career, he argued 59 cases before the Supreme Court. In fact, when he became the president of BYU in 1989, he did so under the condition that he could continue to bring cases to the Supreme Court, which he managed to do several times despite his demanding administrative responsibilities and health limitations.
As the tenth president of Brigham Young University, Rex E. Lee made significant changes to help the university progress into the 21st century and fulfill its mission to provide top-notch education in a spiritually enriching environment. His administration regularized procedures by creating documents which outlined academic freedom policies and requirements for employment; negotiated transfer agreements with junior colleges and carried out other initiatives to speed up graduation time (making room for more students to have the opportunity to study at BYU); laid the groundwork for a massive capital campaign; and oversaw multiple construction projects, including the Museum of Art, the Benson Science Building, additions to the Harold B. Lee Library and the law library, and renovations to the Eyring Science Center, student housing, and the Wilkinson Center. He also gave many devotional addresses, several of them alongside his companion Janet, sharing both his civic expertise and his testimony of the gospel.
Rex E. Lee had been physically active throughout his life. In addition to outdoor activities with his family, he was an avid long-distance runner. He ran thirteen marathons, including the Boston marathon, with his fastest being just under three hours. That part of his life began slipping away when, in 1986, he was diagnosed with lymphoma in a late stage. A year of aggressive chemotherapy was successful in putting the cancer in remission, but was followed by another form of cancer, as well as peripheral neuropathy, a painful nerve disease that especially affected his legs. All of this he endured patiently, with the support of his wife Janet and many family and friends. Doggedly determined never to miss a beat, he fought to continue working despite the issues with his health. He finally stepped down from his position as president of BYU in 1995, and he passed away a few months later, on March 11, 1996. At that time, from his hospital bed, he was preparing his 60th case for the Supreme Court.
Rex E. Lee's speeches at BYU characterize his sharp intellect, his straightforward wit, and his strong leadership personality. More importantly, however, they capture his determination, his faith, his humility, and his dedication to service. His life, and especially his last years, provided a touching example to BYU students and all who knew him. His legacy continues to bless the nation and the university, as well as the countless lives he served.
---
---