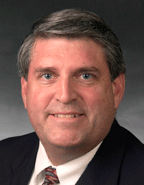 Richard B. Miller
Richard B. Miller is a professor at Brigham Young University and was the director of its School of Family life, as well as the director of the Gerontology Program. He teaches courses on marriage and family therapy, adult development and aging, and research methods. His research focuses on aging, marriage relationships, and health. In particular, his work has been integral in establishing a correlation between the quality of marital relationships and physical health.
Before coming to BYU, Richard B. Miller taught at Kansas State University for eleven years. He earned a PhD in sociology from the University of Southern California. He has published in numerous scholarly journals, including Journal of Marriage and the Family, Family Relations, and International Journal of Aging and Human Development
Brother Richard B. Miller and his wife, Mary, have six children. He has served in The Church of Jesus Christ of Latter-day Saints as the bishop of a married student ward, as well as leading in his home ward's high priests group. He studies and teaches the importance of satisfying and peaceful family relationships for each member of the family and for society as a whole. He believes that the fundamental principles of the gospel of Jesus Christ are the surest way to such healthy relationships. His faith, insight, and devotion to family is evident in his own family life, his Church service, and his work.
---
---