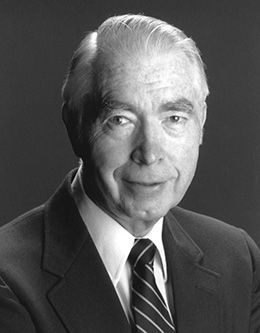 Richard Lloyd Anderson
Richard Lloyd Anderson was born in 1926 in Salt Lake City, Utah. His mother was an elementary school teacher and his father had made his career in the newspaper business. Richard was the oldest of four children and remembers being a very inquisitive child—he asked incessant questions of the adults around him, he pored through his family's encyclopedia, and he spent many hours exploring the streets and even the garbage dump near his home.
The Anderson family moved multiple times during Richard's high school years, so he attended high school in Provo, Utah; Pocatello, Idaho; and in Ogden, Utah. During his high school years, he worked hard—not only in his schoolwork, but in delivering newspapers and working on a farm. The money he made contributed to his family's home in Ogden and helped pay for an operation for his mother. Referring to himself as a workaholic even then, Anderson found life-long satisfaction in hard work.
After graduating from high school, Richard Lloyd Anderson volunteered to serve in the United States Naval Air Corps. He served as a radioman in the Air Corps during and after World War II, spending most of his time in the southeastern United States. During his military service, he took a correspondence course on the New Testament from Brigham Young University. He also served as a stake missionary. Having gained a fervent testimony of the Book of Mormon in high school, he was earnest in his desire and preparation to serve a full-time mission when he left the Navy.
Richard did serve a full-time mission in the northwestern United States. During his missionary service, he created one of the earliest standardized systems for teaching missionary lessons. Nicknamed "the Anderson Plan," his work was adopted throughout his mission and later across the missions of the Church.
After his mission, Anderson began studying at Weber College. At the request of prominent BYU faculty members, such as Sidney B. Sperry and Hugh Nibley, he soon transferred to BYU to study early Christian history along with classical Greek and Latin. It was during these undergraduate years that he met and married Carma Rose de Jong, whom he would later refer to as one of his greatest mentors. Carma went on to earn a PhD in historic clothing, work for the Church's Historical Department and the Museum of Church History and Art, teach a clothing class at BYU, and write a book on the cultural arts of Nauvoo.
Next in Richard's academic pursuits came a JD from Harvard Law School, where he also studied Greek and was accepted to a program of ancient history. He ultimately practiced only a bit of family law, which included working the case of one of his and Carma's own adoptions. His attentions, however, were rooted in religious history. He moved to Cedar City, Utah, to teach for the Church Educational System for a year before heading back to BYU to earn a master's degree in classical studies while working as a religion instructor. He then went to the University of California, Berkeley, where he taught for one year after receiving his PhD in ancient history.
In 1964 Dr. Richard Lloyd Anderson joined the faculty of Brigham Young University as a professor of Church history and doctrine. In addition to teaching, he wrote numerous seminal books and articles on early Latter-day Saint history and early Christian history. Anderson has worked as a research associate for both the Maxwell Institute (formerly known as FARMS) and the Joseph Fielding Smith Institute for Latter-day Saint History. He has also worked as a senior review editor for the Joseph Smith Papers Project. In 2006 he received the Junius F. Wells Award, given by the Mormon Historic Sites Foundation for his immense contributions to the field.
In his BYU devotional, Richard Lloyd Anderson's wealth of academic knowledge on the apostle Paul and Joseph Smith as religious and historical figures combines with his deep faith in the restored gospel.
---
---