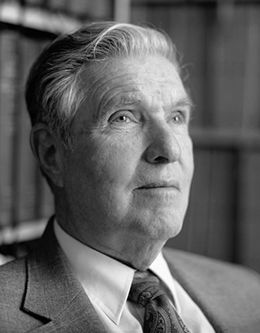 Richard O. Cowan
Dr. Richard O. Cowan, former professor of Church history and doctrine at BYU, was born in Los Angeles, California. He received his doctorate at Stanford University in American church his­tory in 1961. In 1959 he was selected as one of four visually impaired stu­dents in the nation to receive a special award from President Eisenhower at the White House.
Dr. Cowan served a Spanish-speaking mission in Texas and New Mexico and has also been a member of a BYU stake presidency. For more than a decade he served as the chair­man of the committee that prepared the Gospel Doctrine Sunday School lessons for the Church. Currently he serves on the high council in his home stake.
He joined the Brigham Young University faculty in 1961 and taught for over 40 years at the university. Four years after going to BYU he was chosen Professor of the Year by the student body.
Over the years Brother Cowan has been especially interested in the areas of recent Church history and Latter-day Saint temples. He has written many articles for LDS and scholarly publications and has authored seven books, including Temples to Dot the Earth. He is the coauthor of three others, including the Encyclopedia of Latter-day Saint History and Unto Every Nation.
Dr. Cowan has taught at Education Week and has presented Know Your Religion and other lectures through­out the United States, Canada, northern Mexico, and Europe and has also been a visiting professor at BYU's Jerusalem Center and BYU Hawaii.
Brother Cowan and his wife, Dawn, are the parents of six children.
---
---