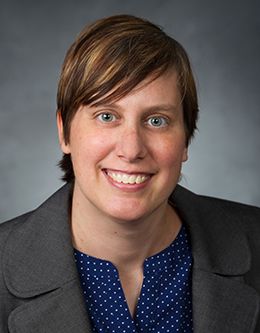 Rickelle Richards
Dr. Rickelle Richards is an associate professor of nutrition, dietetics, and food science at Brigham Young University. In 2001, Dr. Richards received her bachelor's degree from Utah State University. In 2003, she received her master's degree from Tulane University. In 2007, she received her PhD and RD at the University of Minnesota. Dr. Richards values education and is passionate about her teaching and her students.
When Dr. Richards began her studies at Utah State, she was originally planning on pursuing a different major and career path. However, she shortly began considering a change in major. Dr. Richards started to love her classes when she began her journey in nutrition science. This experience has inspired her to encourage her students to work hard at what they are passionate about.
Dr. Richards has published several papers and her research continues to aid in the study of nutrition throughout the country. While she did not plan on teaching at BYU, she accepted the position and now teaches four undergraduate and two graduate courses. She is highly valued in the BYU community. In 2014, she spoke at BYU Women's Conference about lowering stress through a healthy and balanced diet. Additionally, she has been interviewed by BYU Magazine regarding popular dieting fads and what can really help people meet their nutritional goals.
In 2016, Dr. Richards was invited to give a devotional to the entire student body of BYU. She spoke on the beauty she finds around her through God's creations and reiterates her passion for education. She also discusses how her original life plans have changed over time and reminds the audience that God's plan for our lives is not always the same as the plan we have created. Dr. Richards has used her influence for good and strives to continue doing so through her career.
---
---