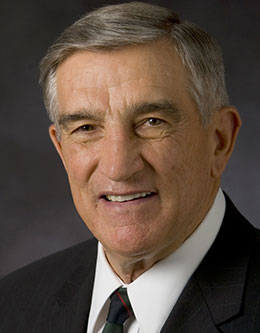 Robert C. Oaks
Elder Robert C. Oaks was sustained as a member of the Second Quorum of the Seventy in April 2000. At the time of his call he was president of the Pittsburgh Pennsylvania North Stake. He served as a counselor and as president of the Africa Southeast Area and as a counselor in the Utah North Area. In October 2004 he was sustained as a member of the Presidency of the Seventy, and served until October of 2009
Elder Oaks retired as a general from the United States Air Force. He graduated from the U.S. Air Force Academy in 1959 and, after pilot train­ing, flew combat missions in Vietnam. He also attended the U.S. Naval War College and in 1967 received an MBA degree in personnel management from Ohio State University.
Elder Oaks was awarded the distinguished flying cross for his Vietnam service and two distinguished service medals. He is also the recipi­ent of the Brigham Young University Alumni Achievement Award and the United States Air Force Academy Alumni Association Distinguished Graduate Award.
Elder Oaks has served as Sunday School teacher, Young Men president, district president's counselor, bishop's counselor, mission president's coun­selor, and stake missionary. He has been a Gospel Doctrine teacher 11 times.
Robert C. Oaks and his wife, Gloria Mae Unger, are the parents of six children.
Show More