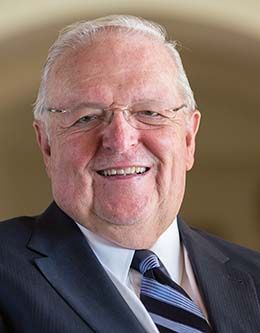 Robert H. Daines
Dr. Robert H. Daines earned his BS in economics from Utah State University, his MBA from Stanford University, and his DBA (doctor of business administration) from Indiana University. His career with BYU began in 1967, and he has since served as a professor of business manage­ment, as director of the Institute of Business Management, and as direc­tor of the MBA program.
Professor Daines has written two books and several articles for profes­sional journals, plus numerous case studies. He has conducted extensive consulting/training work for such organizations as Chase Manhattan Bank, Chrysler Motors, AT&T, and IBM. He is a member of the American Finance Association, the Financial Management Association, and the Academy of Management.
He has been honored with the Mar­riott School's Distinguished Faculty Award, the Outstanding Young Edu­cator of America, both the Exxon and the MBA Teacher of the Year Awards from the Marriott School, and BYU's Karl G. Maeser Teaching Award.
Brother Daines has had extensive Church service. He served as president of the Pennsylvania Harrisburg Mission from 1979 to 1982. He has also served as a stake president, a member of three high councils, a bishop, and as a teacher in priesthood and Sunday School positions. He and his wife, Janet, are the parents of seven children.
---
---