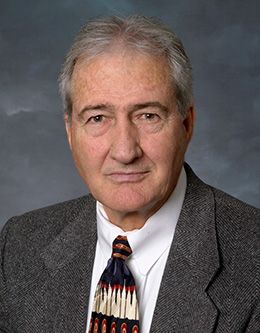 Robert L. Marshall
Professor Robert L. Marshall earned BA and MA degrees from Brigham Young University and began his teaching career at Fullerton College in 1968. He has taught at BYU since 1969.
Professor Marshall has been chair­man of the Department of Visual Arts for 12 years. He was honored with the Susa Young Gates University Professorship (1999–2004), the Karl G. Maeser Research and Creative Arts Award, and the College of Fine Arts and Communications Annual Award for Creative Excellence.
He has received numerous awards for his paintings and has had over 50 solo and group exhibitions nationally.
Brother Marshall was recently released as a bishop. His previous Church callings have included service as a stake high councilor, stake Young Men president, bishopric positions, Sunday School teacher, Young Men quorum advisor, and Primary teacher. He is one of six artists commissioned to paint murals for the Nauvoo Temple and is currently serving on the Church Art Evaluation Committee, which reviews and approves artwork for temples and other Church buildings.
He is married to Janice Wheatfill Marshall, and they are the parents of six children. All the Marshall children have attended BYU, with four gradu­ates so far. The Marshalls have several grandchildren.
---
---