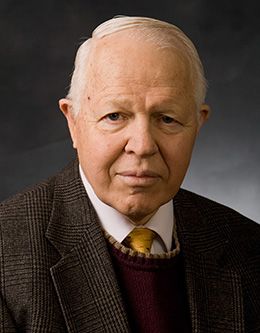 Robert W. Blair
Professor Robert W. Blair earned bache­lor's and master's degrees in English and linguistics from BYU and his PhD in the same disciplines from Indiana University in 1964. He started as a faculty member of at BYU in 1959 as found­ing chair of the Linguistics Department. Dr. Blair received an NDEA Title VI Award (1992–94) for the study of Quechua at Indiana University and spent a postdoctoral year as research associate in Maya at the University of Chicago.
Summers of linguistic fieldwork in Central and South America led to his directing lan­guage-training programs for Peace Corps volunteers in Guarani, Cakchiquel, and Por­tuguese. His work in indigenous languages of the Americas has produced courses and dictionaries in several languages, including Navajo, Maya, Cakchiquel, and Guarani.
Among his publications are Innovative Approaches to Language Teaching and self-instructional audiocassette courses in Spanish, French, German, and Russian for Latter-day Saints. Home schools throughout the United States use his language courses.
From 1993 to 1996, Brother Blair and his wife, the former Julia Groberg, presided over the Baltic States Mission in Estonia, Latvia, Lithuania, and Kaliningrad (Russia).
The Blairs have taught at Shandong University, China, and at Moscow State University in Russia. In 1987–88 Professor Blair directed a program of pre-MTC train­ing for senior couple missionaries learning Spanish, and in 1988–89 he directed a parallel program in French. In 1989 Dr. Blair was named the James L. Barker Lecturer in the BYU College of Humanities.
---
---