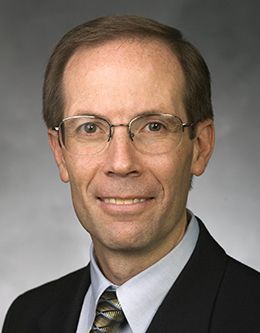 Ronald Brough
Ronald Brough was born in Provo, Utah, in 1955. In addition to Utah, he lived in New Jersey and Texas before attending BYU. After serving a mis­sion to Austria, he graduated from the University of North Texas in 1981 and then taught at Indiana State University. In 1984 he came to BYU as a faculty member.
Professor Brough has served as percussion coordinator in the School of Music and is currently artistic director for the Percussion Ensemble and Panoramic Steel. He has performed as principal per­cussionist in the Utah Chamber Orchestra and as percussionist with the Pioneer Memorial Theater Orchestra, Ballet West, Utah Opera and Symphony, and the Mormon Tabernacle Choir. His performances with these companies have allowed him to tour throughout the United States, Canada, Japan, Europe, Russia, Israel, Australia, and New Zealand. Dr. Brough performs regularly as a member of the faculty jazz quin­tet Q'd Up, which has three recent releases on the Tantara label.
In 1994 Ron and his family formed a steel band known as Pan Jam. The group has performed with the Mormon Tabernacle Choir and as part of the Utah Arts Festival and the Utah Performing arts Tour for the Arts Council.
---
---