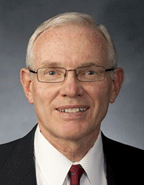 Russell C. Taylor
Russell C. Taylor is the supervisor of Reference Services and department chair of the L. Tom Perry Special Collections in the Harold B. Lee Library, where he has been employed since 1999. Prior professional work includes 15 years in corporate public affairs; three years as assistant curator of Special Collections at BYU; temporary positions as a refer­ence librarian at the University of Mary Washington in Fredericksburg, Virginia, and at Anoka-Ramsey Community College in Coon Rapids, Minnesota; and a posi­tion as a contract library cataloger for Advanced Information Consultants in Minneapolis, Minnesota. To round out his professional career, he has also been an ox drover for the Minnesota State Historical Society at the Oliver H. Kelley Homestead in Elk River, Minnesota.
Taylor has a BA in history and a mas­ter's in library science from BYU and a juris doctorate from Syracuse University. His education and work have taken him to New York, Connecticut, Virginia, Illinois, Pennsylvania, New Jersey, and Minnesota.
Interested in anything dealing with history—especially the history of the book—Taylor is an avid reader, family history researcher, and student of the book arts.
He served in the West German Mission from 1965 to 1967 and has since served in the Church as an elders quo­rum instructor, Sunday School teacher, assistant ward clerk, ward mission leader, Scoutmaster, bishop's counselor, bishop, and high councilor.
Russ and his wife, Cindy, met as students at BYU.
---
---