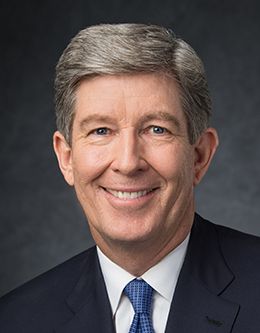 S. Gifford Nielsen
As a young boy growing up in Provo, Utah, Stanley Gifford Nielsen had big dreams of one day becoming a professional athlete. He and his friends would imagine scenarios in which they hit the ninth-inning homerun at the World Series or scored the game-winning touchdown of the Super Bowl. For many of his peers these remained dreams, but for Nielsen, a combination of hard work, luck, and natural talent enabled his sports fantasies to become a reality.
The Provo High School quarterback was recruited by Brigham Young University to play football in the 1970s. Under coach LaVell Edwards, Nielsen went on to become an All-American athlete, a candidate for the Heisman Trophy during his junior year, and an inductee of the College Football Hall of Fame in 1994; Gifford Nielsen became a household name for many BYU Cougars fans. Tragedy struck during Nielsen's senior year, and a detached medial collateral ligament injury ran the risk of ending his football career entirely. Luckily, Nielsen was able to recover and was selected by the Houston Oilers in the third round of the 1978 NFL draft.
As a part-time quarterback for the Oilers, Nielsen enjoyed several victorious seasons and a few devastating ones. After experiencing a 2–14 losing record his sixth and final year in the NFL, Nielsen said, "Through life's experiences we are molded to become something. I learned that the Lord never leaves you and what it takes to get back up when you get knocked down. These experiences reaffirm what has lasting value."
Following his NFL career, Nielsen worked as a sports director for the KHOU-TV television station in Houston for 25 years and developed a "deep love and gratitude for the people of Houston." In 2011 he became the president of Nielsen and Nielsen LLC and the chairman of the executive committee of Memorial City Bank.
Playing professional football and serving the Lord may seem incongruous, but during his professional athletic career, Nielsen was still able to build the Lord's kingdom and keep his morals and standards high. During the 1982 NFL strike, Nielsen never received a paycheck and money was tight; however, he and his wife decided to pay their tithing anyway. Miraculously, Nielsen was able to play in the last two games after the strike ended, fulfilling the requirements of his contract and earning extra money—learning that he could never "out give" the Lord. Nielsen has served as a seminary teacher, an elder's quorum president, a counselor in a mission presidency, a bishop, a member in the stake presidency, and an Area Seventy.
On April 6, 2013, Nielsen was sustained as a general authority seventy. He has served in the Pacific Area Presidency stationed in Auckland, New Zealand, and then as an assistant executive director of the Missionary Department and as an area assistant in the North America Northeast Area.
Elder Nielsen and his wife, Wendy Olson, were married in April 1975, even though Wendy admits that she wasn't very fond of the young Giff when they were in the same sixth-grade class. The Nielsens are the parents of six children, and, after living in the Houston area for 35 years, they now reside in Utah. However, no matter where the Lord's work takes them, "our hearts will always be in Texas," promised Elder Nielsen.
---
---