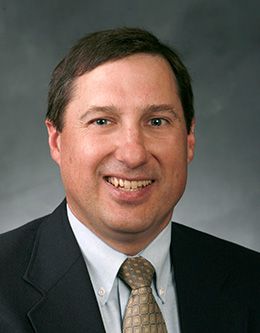 Scott D. Sommerfeldt
Dean of the College of Physical and Mathematical Sciences
Scott D. Sommerfeldt is a profes­sor in the Department of Physics and Astronomy. He previously served as the chair of that department. He received his BMusEd degree and his MS (physics) degree from BYU in 1983 and 1986, respectively. He completed his graduate study at Penn State University, where he received his PhD in acoustics in 1989. Following his graduation, Dr. Sommerfeldt accepted a Penn State University faculty position, which he held for six years prior to accepting a faculty position at BYU.
Dr. Sommerfeldt's research efforts have been focused in the area of acous­tics, and much of his work has centered on the study of active noise control. He has published over 50 technical papers and has received funding for his research from both industry and government agencies. In addition, Dr. Sommerfeldt has served on the Technical Council of the Acoustical Society of America and on the board of directors of the Institute of Noise Control Engineering.
Professor Sommerfeldt has served in numerous callings in the Church, including early-morning seminary teacher, elders quorum president, stake Young Men president, and bishop. He is currently serving on the high council in his stake.
Dr. Sommerfeldt and his wife, Lisa, are the parents of one daughter and four sons and the grandparents of two.
---
---