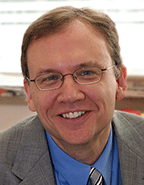 Scott M. Sprenger
Scott Sprenger is a professor of French studies and an associate dean in the College of Humanities at BYU. He holds graduate degrees in French from Johns Hopkins University and Emory University. He was the recipient of a Fulbright Scholar award at the National Center for Scientific Research in Paris in 2009 and an Andrew W. Mellon post-doctoral fellow at UCLA. He is currently a reviewer for several journals, on the editorial board of a French university press, and a member of two research teams in Paris.
Dr. Sprenger is the author of two books, over 30 peer-reviewed journal articles, and several edited volumes, most of which are on modern French literature and culture.
As an administrator Dr. Sprenger coordinates the French graduate program; he directed the European Studies program from 2006 to 2009 and has been on the executive committee of a Title VI Center for the Study of Europe since 2003.
As an associate dean he has helped create and develop the Humanities+ program, whose aim is to bridge the humanities and liberal arts with global career opportunities. Humanities+ has been acclaimed in the national press and by the American Academy of Arts and Sciences as one of the most innovative initiatives in the liberal arts in the United States.
Dr. Sprenger was recently appointed provost and vice president of academic affairs at the American University of Paris and will be stepping into his new position on September 1. He is an avid reader of disciplines outside his field and enjoys skiing and road cycling. He and his wife, Anca, have a 16-year-old daughter who can speak five languages (three natively), is an excellent pianist, and wants to attend MIT to become a chemical engineer.
---
---