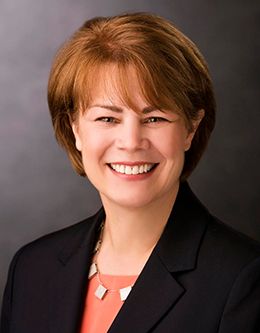 Sharon Eubank
Sharon Eubank was born to Mark and Jean Eubank in Redding, California. As the eldest of seven children, she showed herself to be a gifted leader and a compassionate friend early in her life.
Her international service began when Sharon Eubank served a full-time mission in Finland for The Church of Jesus Christ of Latter-day. A deep love for the Finnish people was added to her love of the gospel, and she continues to practice her Finnish and to visit her mission area whenever she can.
When she returned from her mission, Sharon Eubank earned a bachelor's degree in English from Brigham Young University. Determined not to allow valuable experiences to pass her by, she found herself in a myriad of different positions: an English teacher in Japan, a legislative aide in the United States Senate, and the owner of a retail education store in Provo, Utah. Her varied work experiences supplemented her natural talent for leadership and prepared her for greater responsibilities.
After these experiences, Sharon Eubank began working for the Welfare Department of the Church in 1998. While there she helped to establish LDS employment offices in Africa and Europe and then directed the LDS Charities wheelchair initiative, which aims to improve the mobility, health, and opportunities of those with physical disabilities in areas around the world. Ten years after first joining the Welfare Department, Sister Eubank was asked to oversee humanitarian work in the Middle East as a regional director of LDS Charities.
In 2011 she was named director of LDS Charities worldwide. Her experience in the Middle East helped contribute to the addition of the Refugee Response initiative in LDS Charities as well as a partnership with many other organizations seeking to relieve suffering in that area and around the world.
Throughout her life, Sharon Eubank has served as a teacher and leader in the Sunday School, Relief Society, Young Women, and Primary organizations in the Church. From 2009 to 2012 she served on the Relief Society General Board, part of which included chairing the Relief Society Presidency's public affairs committee.
In April of 2017 Sister Sharon Eubank was called as the first counselor in the General Relief Society Presidency. She also continues her role as the director of LDS Charities. These two demanding responsibilities work together seamlessly for Sister Eubank, who finds joy in serving others both physically and spiritually.
In her first General Conference address as a member of the Relief Society Presidency, Sister Eubank called on women of the Church to be righteous, different, articulate, and to find happiness in building and lifting others. Those who know Sharon Eubank know that she is an exemplar of these attributes, not only in her public leadership roles, but even more in her roles as a friend and family member. Her example and testimony inspire millions of women and men to greater faith, purpose, and service.
In this BYU Forum address, Sharon Eubank calls on members of the Church to focus their service less on giving things away and more on the giving of ourselves. As we do, she promises, we will find deep friendships and greater opportunities to serve, heal, and learn to love each other.
---
---