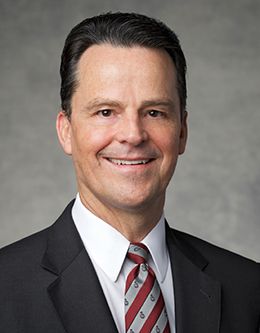 Shayne M. Bowen
Elder Shayne M. Bowen was born August 29, 1954, to Lyle and Jacqueline Bowen in Rigby, Idaho. He spent his childhood in Idaho Falls, Idaho, where his father owned an insurance business and a music store. Elder Bowen has many memories of going to the music store at night to hold the door open for students coming to take lessons. As he entered middle school, he began doing delivery work for his father, which is how he learned what he considers to be one of the greatest blessings of his youth: the value of hard work.
Elder Bowen's parents also taught him the importance of the gospel. He served as a missionary of The Church of Jesus Christ of Latter-day Saints in the Chile Santiago Mission during a frightening time of revolution. Near the end of his mission, Elder Bowen and his companion were picked up by military police and escorted to an interrogation facility where they were detained for several hours. Elder Bowen remembers being held alone in a room, wondering if he would ever see his family again. It was then that the Holy Ghost came and comforted him with a prompting that he would be set free and marry a virtuous woman with whom he would raise many children.
A week before Elder Bowen returned home from his mission, his father met Lynette Mortensen, the daughter of a childhood friend. He told her that he had a son who would be returning home, and that he would have his son give Lynette a call. That call didn't come for a year, but by their second date Elder Bowen was certain that he had met the woman he was meant to marry. They were sealed together in December of 1976 and are the parents of seven children, one of whom passed away as a child.
After graduating from Brigham Young University cum laude with a bachelor of arts degree in English and a minor in Spanish, Elder Bowen followed in his father's footsteps and pursued a career in insurance. He studied insurance and financial consulting at the American College of Financial Services and eventually opened his own agency.
In 2000, Elder Bowen and his wife were called to preside over the Spain Barcelona Mission, where they lived for three years with their children. Two years after their return to the United States, Elder Bowen was sustained as a general authority seventy of The Church of Jesus Christ of Latter-day Saints. In this calling he has served in the presidency and as the president of the South America South Area; in several capacities at Church headquarters; and in the presidency and as the president of the Philippines Area. He has also served as assistant executive director of the Self-Reliance Services Committee and as a member of the Family History Committee. He has also served in the Church as stake president, high counselor, bishop, high priest group instructor, and scout leader. Elder Bowen's opportunities to touch the lives of many around the world have come from his strong work ethic and knowledge of what is most important: the gospel.
---
---