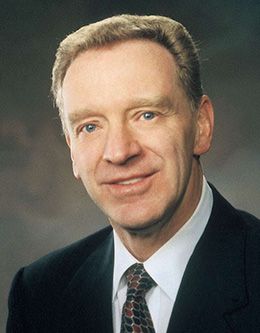 Sheldon F. Child
Elder Sheldon F. Child is a mem­ber of the First Quorum of the Seventy of The Church of Jesus Christ of Latter-day Saints. He previously served in the Second Quorum of the Seventy for two years.
Elder Child is currently serving as president in the North America East Area. He is also an assistant execu­tive director of the Church's Missionary Department. He has served as first counselor and president of the Philippines Area.
At the time of his call to be a full-time Church leader, Elder Child was president of a home furnishings company, a firm he had been with since 1959.
A native of Syracuse, Utah, he studied at Utah State University and the University of Utah. He has been active in the Boy Scouts of America and other community service orga­nizations.
Elder Child has served the Church as a bishop, stake president, mission president, and Area Authority.
He is married to Joan Haacke Child.
---
---