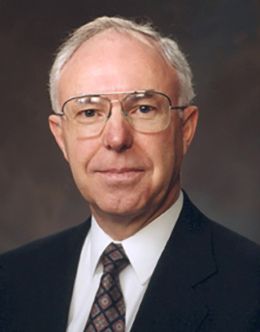 Spencer J. Condie
Elder Spencer J. Condie was born in Preston, Idaho in 1940. Elder Condie served his mission in Germany. While on his mission, he met a young German sister missionary named Dorothea. After he returned from his mission, they dated and eventually married. They are now the parents of five children. Elder Condie has used the lessons he learned as a young missionary in Germany to help teach and instruct those he served since then.
Elder Condie has continued his dedicated church service through the years. He was mission president of the Austria Vienna Mission, which at the time covered Poland, Czechoslovakia, Hungary, Yugoslavia, and Greece. He served in this position from 1984 to 1987. After he returned home, he was called to be a Regional Representative. After this calling, he was called to be a member of the Second Quorum of the Seventy, he served in the New Zealand/Pacific Islands, North America Northeast, Europe North, North America Northwest, Europe, and Europe/Mediterranean Area Presidencies. He has also served as a counselor in the Young Men general presidency and as assistant executive director for the Family and Church History Department, the Correlation Department, and the Curriculum Department.
He credits his partnership with his wife for most of his success in life. She helped him prioritize the gospel during his years of rigorous academic study following his mission. He attended Brigham Young University and the University of Pittsburgh, where he earned a doctorate in medical sociology. After graduation, he returned to BYU as a professor of sociology and ancient scripture. He was the recipient of several awards honoring his teaching abilities. During his time as a general authority, he authored several books discussing different gospel topics, including one about Russell M. Nelson, who is the current president of the Church of Jesus Christ of Latter-day Saints.
The talks Elder Condie has given at BYU encourage all who read or listen to them to change for the better and strive to be a good influence in the lives of the people they meet.
---
---