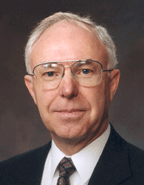 Spencer J. Condie
Elder Spencer J. Condie was named a member of the First Quorum of the Seventy of The Church of Jesus Christ of Latter‑day Saints in June 1992. He had previously served in the Second Quorum of the Seventy, beginning in April 1989. He was granted general authority emeritus status in October of 2010. He also served as the executive director of the Curriculum Department.
During Elder Condie's service as a General Authority, he served in the New Zealand/Pacific Islands, Pacific Islands, North America Northeast, Europe North, North America Northwest, Europe, and Europe/Mediterranean Area Presidencies. Healso served as a counselor in the Young Men general presidency and as assistant executive director for the Family and Church History Department, the Correlation Department, and the Curriculum Department.
Prior to his call as a General Authority Elder Condie served as president of the Austria Vienna Mission (1984–1987), regional representative, stake president, high councilor, stake Young Men presi­dent, and bishop.
Elder Condie is the author of In Perfect Balance; Your Agency: Handle With Care; God of Comfort, God of Love; The Song of Redeeming Love; and Russell M. Nelson: Father, Surgeon, Apostle.
Elder Condie was a professor at Brigham Young University in Provo, Utah. He received a bachelor of arts degree from Brigham Young University, a master of arts degree from the University of Utah, and a doctorate from the University of Pittsburgh.
Elder Condie and his wife, Dorothea Speth Condie, are the parents of five children.
Show More