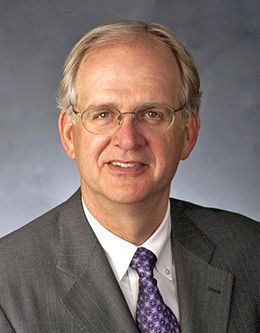 Spencer Magleby
Beginning at a tender age with Tinker­toys and Legos, Professor Magleby has been involved with the practice, develop­ment, and improvement of design engineer­ing for decades—including the education of thousands of aspiring engineers. He is a professor of mechanical engineering and associate dean in the Ira A. Fulton College of Engineering and Technology. He came to BYU after working in the aircraft indus­try developing tools for advanced aircraft design and manufacture. Dr. Magleby received a PhD in mechanical engineering focusing on design of mechanical systems and has pursued research in design tools and processes, team management, design education, and development and commer­cialization of new mechanism technologies.
Dr. Magleby was one of the founders of the nationally recognized Capstone Design Program at BYU and has served as director of the program. He worked with the Marriott School to establish a joint graduate program in product development. He has been recognized for his efforts in design education with awards from Boeing and the American Society for Engineering Education. In his role as associate dean he has initiated and managed the development of numerous international programs for engineering and technology students—many centered on global aspects of design.
During his tenure at BYU Dr. Magleby has published in a variety of technical and engineering venues—mostly with student coauthors. He has coached dozens of stu­dent teams that have developed products and technologies of all kinds. In conjunction with these students, he has been awarded 10 patents, with others pending.
Professor Magleby is married to Stephanie, an adjunct faculty member of engineering and physics at BYU. They are the proud parents of four children and enjoy their two grandchildren. Their youngest child, Austin, is currently a student at BYU.
---
---