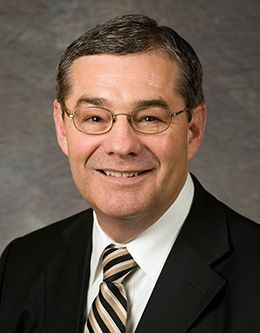 Stanley A. Johnson
Stanley A. Johnson attended Mt. San Antonio College in California before serving in the Great Lakes Mission. He then continued his education and soon transferred to Brigham Young University, where he met his wife and together they graduated from BYU with bachelor's degrees.
After graduation he and his wife moved to Arizona, where he had been hired by the Church Educational System to teach seminary. He taught in Tempe, Mesa, and Phoenix. Meanwhile he was able during the summers to obtain a master's degree from BYU in sociology. After six years in Arizona they moved to Utah, where he worked on his doctorate degree in education at BYU while teaching at Springville and Orem seminaries and eventually institute at what is now Utah Valley University.
Upon completion of his doctorate degree he was hired to teach religion at BYU in the Ancient Scripture Department. He received the Karl G. Maeser Excellence in Teaching Award in August 2009 and currently serves on the Materials Evaluation Committee for the Church.
Brother Johnson and his wife, Leslie, are the parents of six children who have all graduated from BYU and are true-blue Cougar fans. They are also grandparents to eleven grandchildren with one more soon on the way.
---
---