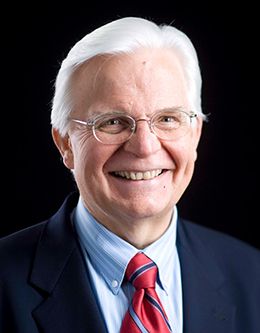 Stanley D. Neeleman
Professor Stanley D. Neeleman graduated at the top of his class from the University of Denver Law School in 1972. Following law school he engaged in the private practice of law in Denver, Colorado. He has served as professor-in-residence and acting assistant to the commissioner in the National Office of the Internal Revenue Service. Professor Neeleman served as chair of the tax section of the Utah State Bar, founder and chair of Utah Lawyers for the Arts, member of the Governor's Task Force on Individual Income Tax and member of the Utah Supreme Court's Advisory Committee on Professionalism. College of Trust and Estate Counsel.
Professor Neeleman joined the faculty of the J. Reuben Clark Law School in 1975.  His tenure at the law school has been interrupted by two leaves of absence—one to serve as professor in residence and act­ing assistant to the commis­sioner at the Internal Revenue Service and the other to preside over the Brazil São Paulo South Mission.
Brother Neeleman has also served as a member of the Church's Missionary Program Advisory Committee, as a branch president at the MTC, and as a bishop on two occasions.
Professor Neeleman is married to Sherri Hunt, and they are the parents of three children.
---
---