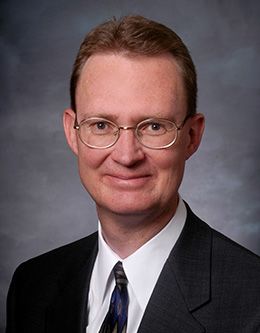 Stephen Jones
Dr. Stephen Jones was the dean of the College of Fine Arts and Communications and professor of composition in the School of Music at Brigham Young University. Prior to his assignment as dean he served as assistant to the academic vice president at BYU, coordinating the strategy and implementation of the university's e-learning services.
Dr. Jones studied composition as an undergraduate at Brigham Young University and received MM and DMA degrees in composition from the University of Cincinnati's College-Conservatory of Music.
His works have been played throughout the United States and internationally, including perfor­mances by the Chicago Symphony Orchestra, the Cleveland Chamber Symphony, the Utah Symphony, and the Mormon Tabernacle Choir. A notable review calls Jones "a canny orchestra­tor with an ear for vivid instrumental colors and quirky, fantastical rhythmic riffs" (Chicago Tribune). The Salt Lake Deseret News calls his work at the exactest point "a stunningly forceful, expressionistic essay that shows Jones as a masterful orchestra­tor and craftsman."
His music can be heard on the Gasparo and Tantara labels and is published by Boosey and Hawkes, Shawnee Press, and Jackman Music.
Dr. Jones currently resides in American Fork, Utah, with his wife, Wendy, and their four children.
---
---