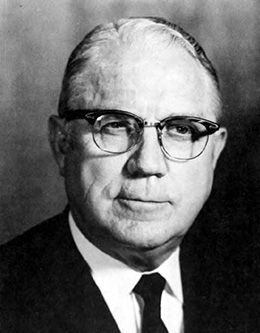 Sterling W. Sill
Sterling Welling Sill was born on March 31, 1903, in Layton, Utah. After serving as a missionary in the southern United States from 1924 to 1926, Sterling W. Sill threw himself into education and work. He studied at the University of Utah and at Utah State University and then entered the workforce as a salesman for New York Life. That job was the beginning of a very successful career in the insurance industry spanning several decades and multiple corporate positions.
In September of 1929 Sterling W. Sill married Doris Mary Thornley in the Salt Lake Temple. They had three children. Sill often spoke of his wife's faithful influence, support, and companionship.
As he progressed in business, Sterling W. Still continued investing in the realm of education. He served as a member of the board of regents at the University of Utah from 1940 to 1951, and a few years later the university granted him an honorary law degree. They also named their Family Life Center after him. Many future leaders remember his guest lectures, in which he advocated his personal formula for success: KASH—knowledge, attitude, skills, and habits. Sterling W. Sill adamantly believed that the principles of the gospel lead to both temporal and spiritual success, a relationship evident in many of the 47 books he wrote in his lifetime.
In 1954, Sterling W. Sill was called to serve as an assistant to the Quorum of the Twelve Apostles, where he served for 22 years. He had served in various Church callings previously, including ten years as a bishop. During the time of his service as a general authority seventy, he also became well-known among members of the Church as the voice of a radio program called "Sunday Evening from Temple Square" from 1960 to 1977. He then served as a member of the First Quorum of the Seventy for two years before being granted emeritus status in 1978.
Elder Sterling W. Sill passed away at the age of 91 on May 25, 1994. His enthusiasm for the gospel and for life was captured in a quote from one of his talks, which was shared at his funeral: "My brothers and sisters, what a lot of thrilling experiences we haven't yet had. May God help us to be prepared for them when they arrive." That enthusiasm is also manifest in the 14 addresses he delivered here at BYU.
---
---