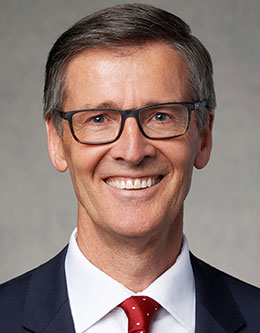 Steven J. Lund
Young Men General President
Steven J. Lund was born on October 30, 1953, and grew up in Santa Rosa and Long Beach, California. After graduating high school, he accepted the call to serve as a full-time missionary in the Netherlands Amsterdam Mission. After his release, Brother Lund attended the Oakland California Temple, where he felt the strong impression that he should join the military. Following the Spirit's guidance, he enlisted in the US Army and was stationed first in Georgia and then in Frankfurt, Germany.
After three years of military service, Brother Lund left the military and returned to Brigham Young University. Once there, he began dating Kalleen Kirk, whom he had first met in Frankfurt. The two were later married in the Salt Lake Temple on August 8, 1980, and they are now the parents of four children.
Brother Lund earned an undergraduate degree in communications and a law degree from BYU. He worked as an attorney and served as the bishop of a singles ward following his graduation. While bishop, Brother Lund met and befriended Blake Roney, who invited Brother Lund to start a company together. The two worked together to form Nu Skin Enterprises, a Utah-based cosmetics company that reaches millions of people in 50 countries. Brother Lund eventually became the president and CEO of the company and continues to work in that position.
Brother Lund has served in a variety of church positions, including president of the Georgia Atlanta Mission, Area Seventy, and member of the Young Men general board. On April 4, 2020, Brother Lund was called to be the Young Men general president of The Church of Jesus Christ of Latter-day Saints.
---
---