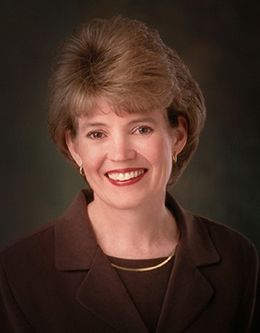 Susan W. Tanner
Susan W. Tanner was the twelfth president of the Church's Young Women organization. She has served throughout her life in Primary, Young Women, and Relief Society, which has cultivated her view of continuity between all stages of development and growth in the Church. Children learn that they are children of God in Primary, recite the Young Women's theme which confirms the same truth when they turn twelve, and then go on to Relief Society where they learn a greater application of the gospel.
Sister Tanner grew up on a large dairy farm—Winder Farms—in Granger, Utah. She attended Brigham Young University and graduated with a bachelor's degree in humanities. It was at BYU that she met her husband, John S. Tanner, who later served as president of the Church's Brazil São Paulo South Mission and as president of BYU–Hawaii. They were sealed in the Salt Lake Temple in 1974, and Sister Tanner then became a homemaker and piano teacher. Her favorite roles in life are that of wife, mother, and homemaker. Brother and Sister Tanner are the parents of five children.
Sister Tanner feels a special closeness to the scriptures and the message of God's love for His children found in them. In her addresses at BYU, she speaks of the precious nature of the scriptures and that because they are so sacred, we must learn of them with not only our minds, but also with our hearts.
---
---