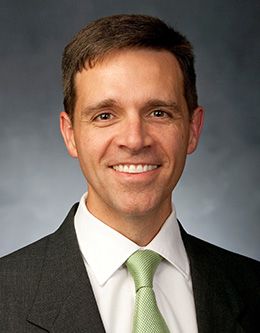 T. Jeffrey Wilks
T. Jeffrey Wilks joined the BYU faculty in 2000 after completing his master's and PhD at Cornell University. From 2006 to 2008 Professor Wilks took a leave of absence from BYU to fulfill an appointment as an academic fellow at the Financial Accounting Standards Board in Norwalk, Connecticut. This regulatory body is responsible for setting the rules and guidelines that U.S. companies must follow when reporting their financial results. While there Professor Wilks helped in the development of a new international standard on the topic of revenue recognition, a standard that will ultimately affect over 100 countries.
Professor Wilks currently teaches a case-based master's level course that requires students to apply both U.S. and International Financial Reporting Standards to a variety of complex business transactions. Students rate this course among the most difficult courses in the Marriott School, but also among the most valuable courses. The Marriott School awarded Professor Wilks the Teaching Excellence Award in 2011.
Professor Wilks served as a missionary in the Ecuador Quito Mission. Since then he has served in many other callings, including Scoutmaster, early-morning seminary instructor, and executive secretary. Currently he is serving as the bishop of his ward in Orem, Utah. He and his wife, Melinda, are the parents of five children.
---
---