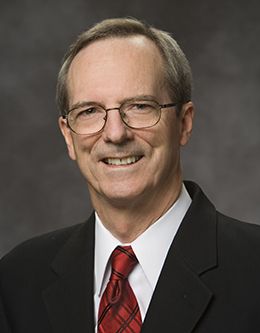 Tad R. Callister
Sunday School General President
A scholar, tax law professional, husband, father, and General Authority, Tad R. Callister has a family legacy of Church leadership, and he augments that legacy with his own distinguished service.
Early Life & Family
Tad Richards Callister was born December 17, 1945, in Glendale, California. He served a mission for The Church of Jesus Christ of Latter-day Saints in the Eastern Atlantic States, based in Washington, DC. When he returned, he attended Brigham Young University, where he met Kathryn Louise Saporiti. They were married in December 1968 and have six children and many grandchildren.
Education & Career
Callister earned a bachelor's degree in accounting from BYU and went on to earn a juris doctor from the University of California, Los Angeles, and a master's degree specializing in tax law from New York University Law School. He spent most of his career practicing tax law in California.
Church Service
Numbers and clauses have not, however, been the focus of Callister's life. In addition to his devotion to his family, he has also been involved in his community and especially in service to the Lord. He was the president of the Verdugo Hills Council of the Boy Scouts of America, and he has also served as a bishop and stake president. He later served as a regional representative and as an Area Seventy for the North America Northwest Area.
While serving as a mission president in the Canada Toronto East Mission in 2008, Callister was called to be a General Authority. He served as a counselor and then as president of the Pacific Area, based in Auckland, New Zealand. He served in the Presidency of the Seventy from 2011 until 2014, when he was called as the Sunday School general president.
Brother Callister blesses Church members worldwide with his insights into doctrinal principles and his stalwart testimony of God, Jesus Christ, and the restored gospel. He has delivered countless addresses and has authored the books The Blueprint of Christ's Church, The Infinite Atonement, and The Inevitable Apostasy and the Promised Restoration. Many look to his remarks because of his talent for teaching complex principles clearly and powerfully.
---
---