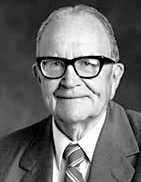 Theodore M. Burton
Born in Salt Lake City on March 27, 1907, to Florence Moyle and Theodore Taylor Burton, Theodore Moyle Burton was dedicated to serving the Lord and those around him throughout his entire life.
As a young boy, Theodore became the first to receive his Eagle Scout award in the Salt Lake Pioneer Stake, exhibiting his strong work ethic and commitment to the gospel. These traits were very beneficial to him when he served a three-year mission in the Swiss-German Mission in 1927. Upon his return, he married Minnie Susan Preece in 1933 and the two had one son named Robert, who described his father as a family man who "absolutely adored my mother."
After his mission, Burton furthered his education at the University of Utah, where he earned his bachelor's and master's degrees in 1932 and 1934 respectively. He later completed a PhD at Purdue University in 1951. His schooling and experience led him down a successful and widely varied career path: Burton worked as an assistant bacteriologist at the Salt Lake Health Department; an assistant to the U.S. Treasury Attaché in Vienna and Berlin; and a professor at Carbon College and Utah State Agricultural College (later Utah State University), where he taught organic chemistry.
However, Burton put his career on hold in 1957 and transitioned from Professor Burton to President Burton. His son Robert recalled, "[My father] would have preferred to stay a chemistry professor and a Gospel Doctrine teacher," but nonetheless he accepted the call to preside over the Western German Mission until 1962 and the European Mission from 1962 to 1964. In 1960 during his time as mission president, Burton was called as assistant to the Quorum of the Twelve Apostles, a calling he held for twelve years.
When the position of assistant to the Twelve was dissolved in 1972, Elder Burton became a key player in the Church's Genealogical Department. Throughout the 1970s, Elder Burton was the executive director of the Genealogical Department and oversaw the translation of microfilms and other materials into languages other than English. The department expanded during his time there and many Family History Centers were opened. He also became a member of the First Quorum of the Seventy in 1976 and was an area supervisor in Europe before receiving emeritus status on September 30, 1989.
Theodore Burton passed away due to a stroke on December 22, 1989. He had served the Church for twenty-nine years and during that time gave many devotional addresses at Brigham Young University, in which he taught the principles contained in the gospel simply and clearly and bore a powerful testimony of Jesus Christ.
---
---