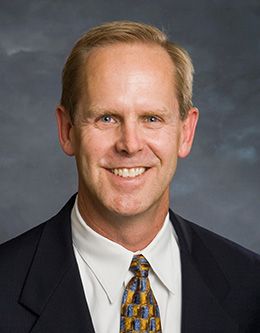 Thomas A. Holmoe
Thomas A. Holmoe is a popular figure on campus for an unusual reason—his love for Halloween. Ever since 2013, Holmoe has showed up to campus on Halloween with a costume elaborate enough to land his photo on BYU's official Instagram nearly every year, as well as on the "Sports Illustrated" Instagram in 2018. The Halloween fanatic has been dedicated to turning himself into popular characters such as Genie from Aladdin, the Phantom from Phantom of the Opera, and Ernesto de la Cruz from Coco; and students have begun to look forward to seeing his detailed costumes each October. 
Beyond his contributions to the Halloween spirit, Holmoe has formed an important part of campus in the school's athletic department. He was named Director of Athletics at Brigham Young University on March 1, 2005. This nationally recognized program has 21 intercollegiate sports and involves more than 600 student-athletes and a 190-person staff. Since his appointment, BYU has captured 120 conference regular-season and postseason championships, and more than 275 student-athletes have earned All-America status. 
Holmoe has also served as a member of the NCAA Men's Basketball Committee and was the Executive Council Committee Chair for the West Coast Conference.  
Holmoe was recruited by Brigham Young University to play as a defensive back in 1978. He graduated from BYU with a degree in zoology in 1983 and received a master's degree from BYU in athletic administration in 1995. Between his time as a student and his years as Associate Athletics Director for Development and Director of Athletics, Holmoe has spent 40 percent of his life at BYU. He and his wife, Lori, have four children and seven grandchildren. 
---
---