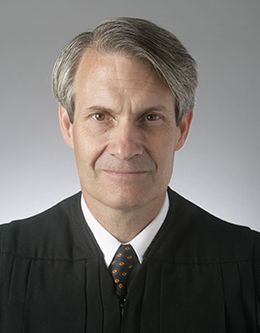 Thomas B. Griffith
Judge Thomas B. Griffith was appointed to the United States Court of Appeals for the District of Columbia Circuit by President George W. Bush in June 2005. He graduated in 1978 from Brigham Young University, where he majored in humanities with an empha­sis in comparative literature, and in 1985 from the University of Virginia School of Law, where he was an editor of the law review.
Between his graduation from BYU and his study of law at the University of Virginia, Judge Griffith worked in the Church Educational System, where he directed seminary and institute programs in the Baltimore, Maryland, area.
Judge Griffith was engaged in the private practice of law from 1985 through 1994, first in Charlotte, North Carolina, and later in Washington, D.C.
From 1995 through 1999 Judge Griffith was Senate Legal Counsel of the United States, the chief legal officer of the United States Senate. In that capacity he represented the interests of the Senate in litigation, investigations, and the impeachment trial of President Clinton.
From 2000 until his appointment to the United States Court of Appeals, Judge Griffith was assistant to the president and general counsel of BYU.
Judge Griffith served a mission for the Church in South Africa and Zimbabwe from 1973 to 1975.
Judge Griffith and his wife, Susan, are natives of the Washington, D.C., area.
---
---