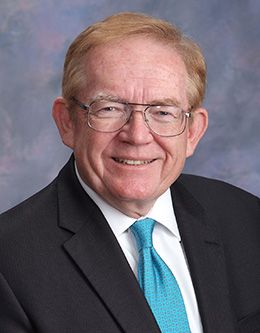 Thomas L. Erekson
Dr. Thomas L. Erekson is a native of Aurora, Illinois. He earned his bachelor's degree from Northern Illinois University and master's and doctoral degrees from the University of Illinois.
Before coming to BYU, Professor Erekson was a dean at Bowling Green State University and a department chair at the University of Maryland, and he held faculty and administrative positions at the University of Illinois, the University of Wyoming, and Northern Illinois University. He was director of the BYU School of Technology since June 1998.
Professor Erekson's expertise is in technology education and technology policy. He teaches Global Technology Impacts, a course that focuses on the positive and negative impacts of technology on society. He has published more than fifty articles, two books, and has presented numerous papers at national conferences. He has served as a consultant to the U.S. Department of Education, the Navajo Nation, BoysTown, major corporations, and several school districts, colleges, and universities. In 1995 he was elected as the seventh Life Chair of the Mississippi Valley Technology Teacher Education Conference.
Dr. Erekson was a co-advisor to BYU's electric vehicle (EV) race team. The race team immerses students in problem solving while developing technologies that will be useful in vehicles of the future. BYU's team has been very successful to date both in winning races and in developing new EV technologies.
---
---