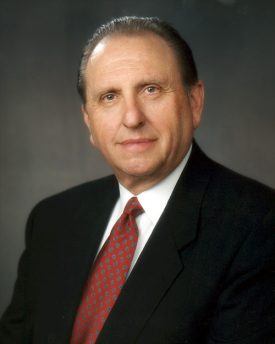 Thomas S. Monson
President of The Church of Jesus Christ of Latter-day Saints
"I always want the Lord to know that if He needs an errand run, Tom Monson will run that errand for Him."
This motto has driven the life of Thomas S. Monson, who is known for his commitment to following spiritual promptings, especially when they relate to the rescue of others. "Tommy" Monson isn't one to take himself too seriously. He was a rowdy young boy, and has kept his childlike spirit—he has been known to wiggle his ears for the entire world in general conference. However, he does take seriously his duty to serve and help his fellow man as the Lord directs.
Born on August 21, 1927, in Salt Lake City, Thomas Spencer Monson showed, early on, his gentle nature and his eagerness to reach out to others. As a boy he raised pigeons, and a certain Young Men leader gave him a pigeon that would habitually fly back to the Young Men leader's home. When Tom followed the pigeon, the leader would tell Monson about a boy who did not come to church. One by one, young Thomas Monson would reach out to them and offer them the friendship they needed to come back.
After high school Thomas enrolled at the University of Utah. His education was interrupted by his enlistment in the United States Navy Reserve. When he returned he resumed not only his studies—graduating cum laude in 1948 with a degree in business management—but also his courtship of Frances Beverly Johnson.
Thomas had met Frances during his first year in college. In his good-humored way he has told the story of picking Frances up for their first date. While conversing with her father, the two realized that a relative of the Monsons had been the one to introduce the gospel to the Johnsons a generation previously. In their excitement, both parents rushed to kiss young Thomas Monson—at which point he looked to Frances, who simply said, "I'll get my coat." The two were married in the Salt Lake Temple in 1948. Sixty-five years later, in his first general conference address after her death in 2013, he said, reverently, "She was the love of my life, my trusted confidant, and my closest friend." Thomas and Frances have three children and a growing legacy of grandchildren and great-grandchildren.
Almost immediately after their marriage, at the age of 22, Thomas S. Monson was called to be the bishop of a ward with more than 1,000 members—including 84 widows, all of whom he visited personally and whose funerals he later returned to attend. At age 27 he was called into a stake presidency, and only four years later he presided over the Canadian Mission. His demanding Church service did not preclude him from accomplishment in other areas of his life: during these years he earned an MBA from Brigham Young University, worked as an advertising executive for Deseret News and a general manager of Deseret Press, and served as the president of the Printing Industry of Utah and a member of the board of directors for the Printing Industries of America.
At the young age of 36, Thomas S. Monson was called to serve as an Apostle for The Church of Jesus Christ of Latter-day Saints. He was called to the First Presidency in 1985 and as President of the Church in 2008. His multifaceted service over the years is well recognized. He obtained permission for a temple and for missionary travel in East Germany before the removal of the Iron Curtain. President Ronald Reagan assigned him to serve on the President's Task Force for Private Sector Initiatives. The Boy Scouts of America, Scouts Canada, and Utah National Guard organizations have awarded him several prestigious honors. He and Fances have been presented humanitarian awards by the Sisters of Charity of St. Joseph Villa, the Rotary Club, and various other charity organizations. And no less than seven universities, beginning with BYU, have conferred honorary doctorate degrees upon him.
Less conspicuous rewards, however, have been sweeter to President Monson. His life and service are filled with examples of following the Spirit and finding himself in the right place at the right time to bless someone's life. The scope of his position does not obscure for him the value of "the one." He has a special love for the elderly and for children; once, for his birthday, he asked the Primary children of the Church to give him a gift by doing something kind for someone else. He received hundreds of stories from families and wards of the simple but sincere acts of service by their children. Through his heartfelt stories and simple testimony, as well as his humble and dedicated example, he constantly calls others to follow the Savior in serving with charity. His life is an invitation to join him "on the Lord's errand."
if ($speaker_bio) { ?>
Show More
} ?>