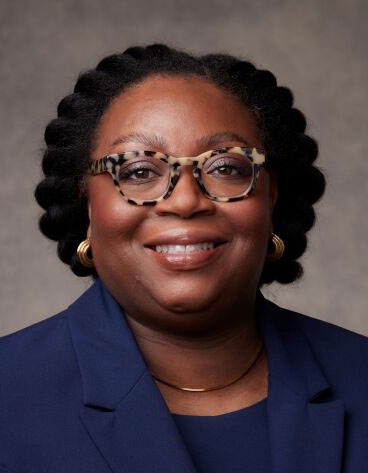 Tracy Y. Browning
Tracy Yeulande Browning was born October 9, 1976, in New Rochelle, New York, and was raised in Jamaica until she was 11 years old, when she moved back to the United States. When she was 15, her mother saw a television advertisement by The Church of Jesus Christ of Latter-day Saints offering a free copy of the Book of Mormon, and she requested one. Shortly after, the missionaries came to their house and began teaching them. Tracy was curious about this new knowledge, and she attended the Hill Cumorah Pageant and visited the Sacred Grove in upstate New York. Within a year, she was baptized. Her active membership in the Church led her to meet Brady Browning, a returned missionary from Utah, and they married in the Salt Lake Temple on May 2, 1997. The couple has two children, Morgan and Cameron. 
Sister Browning studied at St. John's University and worked in financial services for fifteen years. She is now an account services director in the Church's Publishing Services Department. She has served in various capacities within the Church, including in ward and stake Relief Society presidencies, as Relief Society and Sunday School teacher, and various Young Women responsibilities.  
Sister Browning was called as second counselor in the Primary General Presidency for The Church of Jesus Christ of Latter-day Saints on April 2, 2022. She was serving on the Relief Society general advisory council at the time of her call. She is the first Black woman to serve in one of the Church's general presidencies, and in October 2022, she made history as the first Black woman to speak in a general conference of the Church. 
---
---