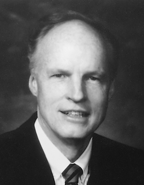 Truman G. Madsen
Dr. Truman G. Madsen earned bachelor's and master's degrees from the University of Utah in the history of philosophy. He earned his doctorate from Harvard University in the his­tory and philosophy of religion.
Professor Madsen was the Richard L. Evans Endowed Professor from 1973 to 1993, a Kennedy Center Research Fellow, and resident scholar at the Jerusalem Center for Near Eastern Studies. Other BYU honors have included the Karl G. Maeser Distinguished Teacher Award and the Outstanding Educator Award. He was awarded the Mudd Fellowship in Philosophy at the University of Southern California and the F.C.S. Shiller Philosophical Essay Prize.
Professional service has included a six-year stint as vice chairman of the Public Programs Committee of the National Endowment for the Humanities. He has been director of the Institute of Mormon Studies, the Judeo-Christian Studies Center, and the Jerusalem Center for Near Eastern Studies in Jerusalem (1991–93). Dr. Madsen has been a guest professor at Northeastern University, the Graduate Theological Union, and Haifa University. He has had extensive editorial experience and is the author of numerous books, including Eternal Man, B. H. Roberts: Defender of the Faith, Christ and the Inner Life, Joseph Smith the Prophet, Jesus of Nazareth, and The Radiant Life. His lectures on Joseph Smith have been compiled into a series of distin­guished tapes.
Brother Madsen's Church service has included callings as a counselor in the Atlantic District presidency (Boston), president of the New England Mission (1962–65), member of the Sunday School general board, counselor in the Israel District presi­dency, and president of the BYU 5th Stake. He is married to the former Ann Nicholls, and they are parents of three children plus a Navajo foster son.
Show More
Talks by Truman G. Madsen