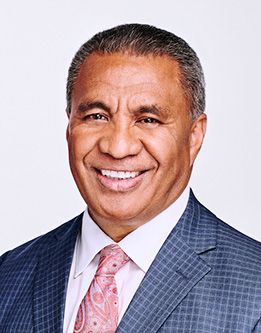 Vai Sikahema
Vai Sikahema was born August 29, 1962, in Nuku'alofa, Tonga. When he was only five years old, he traveled with his family and a group of other members of The Church of Jesus Christ of Latter-day Saints to New Zealand to be sealed as families in the Hamilton Temple. The trip was such a great expense that Vai's family had to remain in New Zealand for three months after the sealing to earn enough money to return home to Tonga. This incredible display of faith is just one example of the rich cultural heritage and family history that are fundamental parts of his identity.
Vai's family was willing to sacrifice not only for their faith, but also for education and the hopes of bettering the lives of their children. His parents went to the Church College of Hawaii (now BYU–Hawaii) while he and his siblings remained in Tonga with relatives. After a year of study and work, they had earned enough money to bring Vai to Hawaii. They then settled in Mesa, Arizona, where they were able to bring Vai's siblings to join them. Vai attended and played football at Mesa High School.
In 1980, Vai enrolled at Brigham Young University. He played college football for two years, and though he quickly built up momentum in his athletic success, he left for two years to serve in the South Dakota Rapid City Mission. The break from play did not hurt his career, however; the year he returned, the BYU Cougar football team won the 1984 National Championship. At the end of his senior year, Vai held an NCAA record for the most punt returns in a career—153. He was inducted into the BYU Hall of Fame in 2002 as well as with the 1984 championship team in 2004. Many years later, he returned to BYU to graduate with a degree in broadcast journalism.
In 1986, Vai was drafted into the National Football League—the first Tongan to ever play in the NFL. He was a running back and kickoff returner for eight seasons, playing for the St. Louis (now Arizona) Cardinals, the Green Bay Packers, and the Philadelphia Eagles until he retired in 1993. During his professional career, he was named to the Pro Bowl twice. One of his most memorable moments was returning a punt for a touchdown, a stunt he had also achieved in a crucial game during his first year at BYU.
Following retirement, Vai got a job as a sports director and anchor for WCAU, the CBS and then NBC station in Philadelphia. He has covered several Olympics, Superbowls, World Cup Finals, and other high-profile events. In 2010, he became the co-host of Early Midday Show on Philadelphia radio station WPEN-FM 97.5. He is a two-time Emmy Award winner as well as a member of the Broadcast Pioneers of Philadelphia Hall of Fame. He has also covered Wednesday's Child, a weekly segment to promote adoption.
Vai is married to Keala Heder, whom he credits with helping him to find himself and with being a stalwart support and friend. They have four children. Brother Sikahema has served as a bishop and stake president, as well as the director of public affairs for the Philadelphia region. He was a key figure in negotiations to build the Philadelphia Pennsylvania Temple, and he has regularly contributed a column to the Deseret News and presented in major Church-sponsored conferences. In his BYU devotional, he testifies that the Lord will consecrate our talents and efforts to blessing the lives of others as long as we trust Him to do so.
---
---