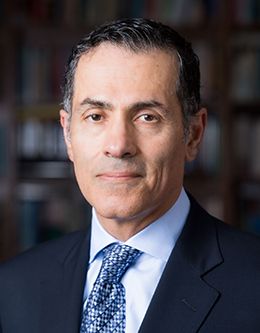 Vali Nasr
Vali Nasr, born December 20, 1960, has had a life shaped and molded by interactions between the United States and the Middle East. Nasr grew up in Tehran, Iran, and later immigrated to the United States as his family sought refuge during the 1979 Iranian Revolution. When they first arrived in America, the Nasr family lived for a time in Salt Lake City, Utah. Once his family gained their footing, Nasr was able to attend university in the United States.
Nasr studied international relations and received a PhD in political science from the Massachusetts Institute of Technology. He specializes in the Middle East and Islamic world and is currently the dean of John Hopkins University School of Advanced International Studies. Prior to this position, Nasr taught international politics at Tufts University's Fletcher School of Law and Diplomacy. He is a Carnegie scholar, and he has served as special advisor to the President's special representative for Afghanistan and Pakistan from 2009–2011, as an adjunct senior fellow for Middle Eastern studies at the council on Foreign Relations, and as a senior fellow at Harvard University's Kennedy School of Government. Nasr has served on the faculty of many universities and is a life member of the Council on Foreign Relations.
The author of several books, Vali Nasr focuses his writing and scholarship on international political relations, specifically those that pertain to Islamic activism in Pakistan, Iran, and throughout the Arab world. In his address at BYU entitled "The Challenge of the Middle East: A Personal Journey into Global Strategy," Nasr comments on the complex issues in the Middle East and discusses America's involvement in those issues.
Nasr and his wife have four children—three sons and one daughter. His effort to share his informed opinions on complex international issues represents a desire and determination to help to make the world a more unified and peaceful place.
---
---