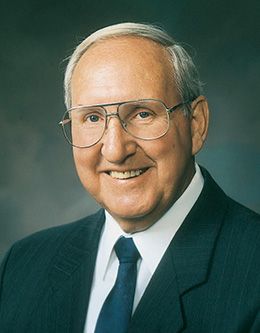 Vaughn J. Featherstone
Vaughn J. Featherstone's humble beginnings gave him an intense appreciation for the gospel and its blessings. He was born March 26, 1931, in the small town of Stockton, Utah. His family then settled in Salt Lake City when he was five. While he was growing up, his parents were divorced and his mother was left to provide and care for eight children. They were very poor, and Elder Featherstone spoke often of the gratitude he felt for the help they received during that time, as well as for his stalwart mother.
Vaughn's father was the only member of the Church in the family and had been inactive for some time, so it was through a friend's invitation to Primary that Vaughn first came to church. He wanted to be baptized, and his mother was supportive. Eventually, she and his siblings were baptized as well.
Elder Featherstone's testimony, however, was really founded when he was fifteen years old. He heard a friend bear testimony of the truth of the gospel, and Elder Featherstone could tell that this friend really knew what he was saying. He wanted that kind of conviction for himself, so he began seriously reading the Book of Mormon. As he read, he felt as though he were present in the ancient Americas for the events taking place. He was so overcome by the Spirit that when he finished the book, he recalls, "All I could do was kneel down and thank the Lord for my testimony, because then I knew the gospel was true."
Vaughn J. Featherstone graduated from South High School in Salt Lake City in 1949. He did not have opportunity to attend college, nor could he serve a full-time mission due to the Korean War and subsequent one-missionary-per-ward policy. Instead, he began working as a head trainer for Albertson's supermarket. He later joined the staff of another fast-growing supermarket chain, which would take him to various executive positions in Utah, Idaho, and California.
Soon after high school, Vaughn J. Featherstone married his sweetheart, Merlene Miner, in the Salt Lake Temple. They raised six children together, five sons and one daughter. As his career and Church service became more demanding, Elder Featherstone made sure to make his family a top priority. Monday nights were reserved for family night, and Friday nights were exclusively for Sister Featherstone.
Elder Featherstone served in several stake leadership positions, on the Church General Missionary Committee, as a member of the Young Men general presidency, and in area presidencies in the Philippines and the Pacific. In 1972 he was called to the Presiding Bishopric, where he served for four years before being called as a general authority seventy and presiding over the Texas San Antonio Mission. He was granted emeritus status in 2001, and was called to be the president of the Logan Utah Temple from 2002 to 2005.
He loved the youth and especially loved Scouting; he stayed physically active throughout his life and was even a qualified professional river rafting guide. Elder Featherstone also wrote many books, particularly for youth of the Church, about gospel topics for which he felt strongly. His testimony was rooted in the Savior, Jesus Christ, and His ability to forgive, heal, and protect. Elder Vaughn J. Featherstone felt the blessings of the gospel deeply in his own life and dedicated himself to sharing those blessings with everyone around him.
---
---