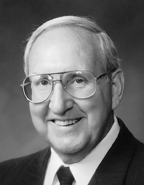 Vaughn J. Featherstone
Elder Vaughn J. Featherstone, after hav­ing served in the Presiding Bishopric since 1972, was called as a member of the First Quorum of the Seventy in 1976. His past Church service has included presiding over the Australia/New Zealand Area, the Pacific Area, the North America Northeast Area, the North America Southeast Area, the Philippines/Micronesia Area, and the Utah South Area. He has also served as president of the Young Men auxiliary and as president of the Texas San Antonio Mission.
The Stockton, Utah, native grew up in Salt Lake City, where he was active in South High School student government and athletics. Elder Featherstone became junior and senior class president and school historian. He is an Eagle Scout.
Elder Featherstone married Merlene Miner in 1950, and began working for a local supermarket. He later joined an expanding supermarket chain, where he became corporate training manager. He is the author of 12 books.
An active Scouter, Elder Featherstone was honored with the Silver Antelope Award in 1976. In 1982 he received the Silver Beaver Award, and in 1988 he was awarded the Silver Buffalo. In 1990 he was honored with the Distinguished Eagle Scout Award. In the past, he has served on the National Executive Board, the National Advisory Council, and on several national committees for the Boy Scouts of America.
Show More