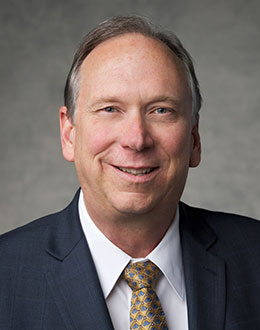 Vern P. Stanfill
Vern Perry Stanfill was born in Townsend, Montana, on August 8, 1957, to Jed and Peggy  Stanfill. Elder Stanfill is the third of four children, with two older brothers and a younger sister. He was raised on the family ranch in Montana, where he learned to work hard and follow through on each task assigned to him.
His hard work eventually led him to BYU, which he attended for a year before leaving to serve faithfully in the France Toulouse Mission. When he returned to his studies at BYU, he met and began dating Alicia Cecile Cox. They later married in the Salt Lake Temple on December 17, 1980.
Elder Stanfill graduated with a bachelor's degree in agricultural economics from BYU in 1981, and he soon returned to Montana to take over the business side of his family's ranch. During the years that Elder Stanfill managed the ranch, he and his wife raised four daughters. The Stanfills instilled the same hardworking attitude in their children that Elder Stanfill's parents had helped him to develop. As a family, they created a system of finishing their work on the ranch before pursuing more entertaining ends.
During his time managing the ranch, Elder Stanfill served in a variety of leadership positions within the church, including stake president, bishop, and branch president. The small community he grew up in came to know him as "preacher" or "Bishop Vern."
In 1998, Elder Stanfill decided to sell the ranch and seek out a new life for his family. He moved to Bigfork, Montana , and pursued work in handling family assets and trusts. Elder Stanfill also holds a commercial pilot license with fixed-wing and rotorcraft ratings, and he loves flying helicopters and planes.
At the time of his call to become a General Authority Seventy, Elder Stanfill was serving in the Sixth Quorum of the Seventy in the North America Central Area. He and his wife were planning on traveling in a mobile home, but they had to put those plans on hold so that they could serve the Lord instead. Elder Stanfill was sustained as a General Authority Seventy on April 4, 2015, and he has since served in a variety of committees and area presidencies.
---
---