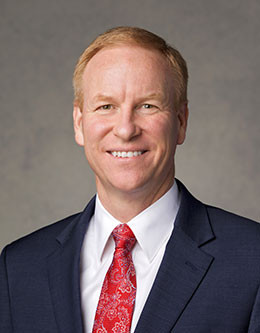 W. Mark Bassett
When Elder W. Mark Bassett was 15 years old, he had a faith-defining experience that he still recalls today. During a campout, an unexpected lightning storm left the only adult in the group mortally injured, forcing Elder Bassett and the other young men to take charge. The group of boys trekked to a ranger station and sent assistance to their wounded leader. After the rescue team had been sent, Elder Bassett gathered the other young men, and they knelt together in prayer. During the prayer, he felt peace and comfort from the Holy Ghost even though they didn't yet know that the injured man had passed. Elder Bassett refers to this experience as a turning point, saying that "[He] felt the Holy Ghost clearly and felt peace during a challenging time."1
Faith-building experiences like this were supported by Elder Bassett's loving, gospel-centered family. Both of his parents were raised in the Church and taught their children to develop their own faith. Much of Elder Bassett's childhood is remembered as visiting church historical sites. At the age of 19, Elder Bassett chose to serve a mission and was called to the Guatemala Guatemala City Mission. His mission was a challenging but rewarding experience for him, further strengthening his testimony and adding new facets to his faith.
He served faithfully for two years before being released and returning to his hometown of Carmichael, California, just outside of Sacramento. After returning, he became reacquainted with Angela Brasher, and the two began dating before he left to attend Brigham Young University. A two-year long-distance relationship followed until they were finally married on December 20, 1989, in the Salt Lake Temple. Their family continued to grow and now includes five children and several grandchildren.
Elder Bassett earned his accounting degree from BYU two years after his marriage and then returned to his hometown to work in the wholesale auto industry. He later became the owner and CFO of West Coast Auto Auctions, Inc., where he worked until 2007, when he was called to serve as president of the Arizona Mesa Mission. He and his family lived and served in Arizona for the next three years and returned to California after Elder Bassett's release from the calling.
Elder Bassett served as an Area Seventy for several years before he was called as a General Authority Seventy on April 2, 2016. In addition, he now serves as the Assistant Executive Director of the Missionary Department and as a presidency member in the North America Northeast Area Presidency.
Mark Bassett, quoted in Marianne Holman Prescott, "Elder William Mark Bassett: 'Through Little Experiences' Came a Foundation of Faith," Church News, April 21, 2016, https://www.thechurchnews.com/leaders-and-ministry/2016-04-21/elder-william-mark-bassett-through-little-experiences-came-a-foundation-of-faith-26859.
---
---