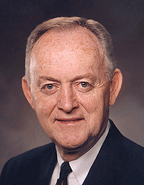 W. Rolfe Kerr
Elder W. Rolfe Kerr was called in 2005 as commissioner of the Church Educational System for The Church of Jesus Christ of Latter-day Saints. He is a member of the First Quorum of the Seventy, having been called to that position in 1997. He previously served as a member of the Second Quorum of the Seventy, beginning in 1996.
Elder Kerr was serving as president of the Texas Dallas Mission at the time of his call as a full-time Church leader. He has served as president of the Europe West Area and as a counselor in the Europe North Area, the North America Northwest Area, and the Utah South Area presidencies.
Elder Kerr is a former Utah Commissioner of Higher Education, executive vice president of Brigham Young University, president of Dixie College, assistant to the president at Utah State University, associate dean of students at the University of Utah, dean of men at Weber State University, and coordinator of student government at Utah State University.
Dr. Kerr earned his bachelor's and master's degrees from Utah State University and a doctorate from the University of Utah. He has received four honorary doctoral degrees.
He has served the Church as a mission president, stake president, member of the Sunday School general board, stake high councilor, bishop's counselor, teacher, and missionary.
Elder Kerr was born in Tremonton, Utah. He is married to Janeil Raybould Kerr, and they have six children and several grandchildren.
Show More