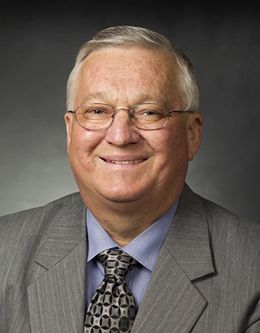 W. Steve Albrecht
W. Steve Albrecht received a bachelor's degree from Brigham Young University and an MBA and PhD in accounting from the University of Wisconsin–Madison. He then worked for international accounting firm Deloitte and Touche before becoming a professor at the University of Illinois. He joined the BYU faculty in 1977.
The contributions of W. Steve Albrecht to BYU in his years of employment have been tremendous. He began teaching in what was then called the Marriott School of Management (now the BYU Marriott School of Business) and soon became an integral part of the program. He served as the director of BYU's School of Accounting for nearly a decade, and under his leadership that program came to be ranked one of the top three in the United States. He then served for ten years as an associate dean of the Marriott School, during which time the undergraduate program jumped from an unranked spot to join the top ten in the nation, where it continues to rank consistently.
W. Steve Albrecht has been named the Andersen Alumni Professor at the Marriott School as well as the Karl G. Maeser Distinguished Faculty Lecturer. He has an endowed professorship in his name, with another fellowship named after his wife, the former LeAnn Christiansen. These are only a few examples of the academic recognition Dr. Albrecht has received from BYU and other institutions. He has conducted extensive research on business fraud and ethics, which has led to over a hundred articles in professional and academic journals as well as over twenty books and monographs.
In the professional realm, his accomplishments have been no less significant. Among a slew of other memberships and executive positions, W. Steve Albrecht has served as the president of the Association of Certified Fraud Examiners, who have since named one of their headquarters buildings after him. He has also been president of the American Accounting Association and a member of the board of directors of multiple highly successful companies. He has been a consultant with a number of Fortune 500 companies, as well as the United Nations and the Federal Bureau of Investigation.
As a young man, W. Steve Albrecht served a mission for The Church of Jesus Christ of Latter-day Saints. Years later, he took a hiatus from professional responsibilities to preside over the Tokyo, Japan mission. He and his wife, LeAnn, whom he met and married while a student at BYU, have six children and many grandchildren. In his addresses at BYU, W. Steve Albrecht combined his expertise in business with his personal belief in God's power to exhort students to seek out and live for a testimony of their immense potential.
---
---