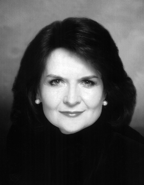 Wendy L. Watson
Dr. Wendy L. Watson is a native of Raymond, Alberta, Canada. She earned RN cer­tification from the Calgary General Hospital School of Nursing. She completed her BA in psychology at the University of Hawaii, earned an MS in marriage and family ther­apy from BYU, and attained her PhD from the University of Calgary in family therapy and gerontology. She joined BYU's Department of Family Sciences faculty in 1992.
Sister Watson has been employed as a family therapist in a hospital setting, in a university counseling center, and in an adolescent treatment center. Her clinical research interests include the process of therapeutic change, family beliefs, the rela­tionship between family relationships and illness, and aging families. Her research has shaped a family therapy approach called Systemic Belief Therapy. This clinical approach is described in her 1996 coauthored book Beliefs: The Heart of Healing in Families and Illness.
She has published many articles and book chapters and has presented at over 200 national and international scholarly conferences from Israel to Ireland, from Czechoslovakia to Canada. Her workshop entitled Aging Families and Beliefs was selected as one of the top five at the annual conference of the American Association for Marriage and Family Therapy. She is the writer/producer of five educational video­tapes that have been internationally signifi­cant in bringing family therapy to health care professionals. She is a clinical member and approved supervisor of the American Association for Marriage and Family therapy and a member of the American Family Therapy Academy.
Dr. Watson has served the Church as a BYU Stake Relief Society president and is 1999 and 2000 chair-elect for the univer­sity/Relief Society Women's Conference.
Show More