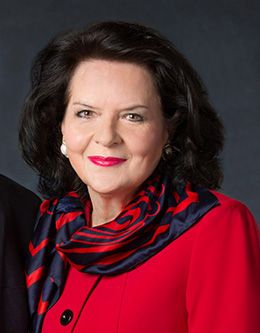 Wendy L. Watson
Wendy L. Watson was born to Leonard David and Laura McLean Watson in 1950 and raised in Raymond, Alberta. She is one of three children. A member of The Church of Jesus Christ of Latter-day Saints all her life, she fondly recounts learning gospel truths as a child both in Primary and at home, and she has always made those truths her personal foundation. The best advice she feels she ever received was "Never settle." In the familial, academic, and spiritual aspects of her life, she strives for the best.
Wendy Watson studied at Calgary General Hospital School of Nursing, receiving her RN certification in 1970. She then traveled from Canada to Hawaii to complete a bachelor's degree in psychology from the University of Hawaii at Manoa, graduating in 1973. Her education continued to take her to new places, and she earned a master's degree in marriage and family therapy at Brigham Young University in 1975 before returning to Canada to work at the University of Calgary. There, she not only practiced as a part-time marriage and family therapist but also worked as an assistant professor and earned her PhD in family therapy and gerontology, which she received in 1984. She became an associate professor in 1986.
Dr. Watson worked extensively with the Family Nursing Unit at the University of Calgary for many years, and her academic work, published in articles, books, and videos, has created the theoretical and practical basis for family systems nursing, which aims to focus on the family as the unit of care. She was given the Teaching Excellence Award by the University of Calgary in 1991. Throughout her career, she has spoken at more than 200 scholarly conferences.
In 1993, Dr. Watson joined the faculty of BYU's School of Family Life as an associate professor; she became a full professor four years later. She was the reviewer for the Journal of Family Nursing for several years as well as the chairwoman for BYU Women's Conference for two years. She retired in 2006 when she married Russell M. Nelson, then a member of the Quorum of the Twelve, in the Salt Lake Temple.
Russell M. Nelson later became president of The Church of Jesus Christ of Latter-day Saints, and Wendy Watson Nelson has spent countless hours travelling and speaking with her husband to audiences of Church members around the globe. Sister Nelson, highly sought after for her insightful faith and example of gospel living, has also written many faith-nurturing books and presented at numerous spiritual conferences. Her unique life experiences and her extensive academic and spiritual study have given her tremendous insight into matters of the soul and the family.
---
---