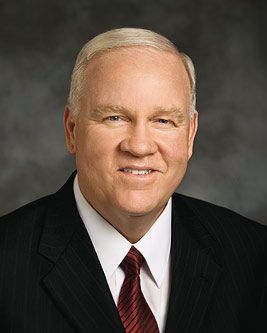 Wilford W. Andersen
of the Seventy
Wilford W. Andersen was born on August 22, 1949. The Mesa, Arizona, native has dedicated much of his life to spreading the gospel and serving both God and his fellow man.
As a young man, Andersen was called to serve as a missionary in the Argentina South Mission. Upon his return, he married Kathleen Bennion in April 1975 in the Provo Utah Temple. They are the parents of nine children.
In 1973 Andersen received his bachelor's degree in business management, and in 1976 he received a juris doctor—both from Brigham Young University. After graduation, Andersen worked in law and real estate development and was the managing partner of Andersen Investments. In addition to his successful career, Andersen dedicated much of his time to Church service. He has served as a bishop, high councilor, stake president, and president of the Mexico Guadalajara Mission from 2002 to 2005.
Andersen's sphere of influence expanded in 2009 when he was sustained as a General Authority Seventy. This calling gives him the opportunity to travel the globe, ministering to Saints from all walks of life. As a member of the Seventy, Elder Andersen served as a counselor in the Caribbean Area Presidency for five years. He currently serves in the Temple Department and has jurisdiction over the Middle East/Africa North Area as well as the Idaho and North America Central Areas.
In his devotional address at Brigham Young University, Elder Andersen sought to "comfort the afflicted and afflict the comfortable" with his speech on the pride cycle. His insightful analysis of the pervasive, pernicious sin helps us to know how to break the cycle in our own lives and come closer to God through gratitude and meekness.
---
---