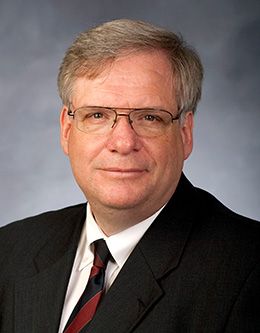 William B. Lund
William Lund is the associate university librarian for information technology at the Harold B. Lee Library. He received a bachelor's degree in mathematics from BYU in 1978 and subsequently received a master's degree in operations research from Stanford University, a master's of library and information science from Drexel University, and a PhD in computer science from BYU. His areas of interest include the correction of optical character recognition errors in digitally scanned historical documents and the implementation of current information technologies in the library.
Prior to joining the Lee Library in 1994, Bill worked at the Hughes Aircraft Company in Los Angeles as an operations research engineer and then for the Hewlett Packard Company in the San Francisco Bay Area as a research and development project manager.
Bill has served as a bishop in a BYU single adult ward, and he and his wife are currently serving as the family history directors for their home ward. Bill is also one of the ward and stake organists, having studied organ as an undergraduate at BYU under Dr. Parley Belnap. His other hobby is collecting Disney memorabilia, particularly related to the history of the Disneyland Park in California. He is known in the library as the Disneyland expert.
Bill and his wife, Eileen, are the parents of triplet daughters.
---
---