Purity Is Power
Hugh B. Brown
of the First Presidency
Sep. 30, 1962 • Devotional
The text for this speech is not available, but please enjoy the audio through the link provided.
See the complete list of abbreviations HERE
Related Talks and Topics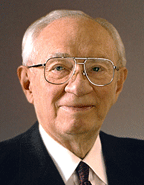 779 Views
Gordon B. Hinckley
|
Sep. 18, 2007
My dear brothers and sisters, you have done it again. This is the 10th year that you have done so, and I congratulate you most warmly. I speak of the Princeton Review rankings, where you have come in first out of 366 colleges. You are the most "stone-cold sober" student body in America. How proud you ought to feel about this designation—no smoking, no drinking, no drugs. You are living up to the Honor Code of this institution. You will be blessed for doing so. Why would anyone on this campus, where education is heavily subsidized by the Church, have any desire to do anything less? It is a remarkable thing that on any given Sunday this magnificent physical plant becomes a vast Church campus. Thousands of young people, scriptures in hand, are to be seen hurrying to classrooms and lecture halls that become places of religious instruction. I do not know where else in all this world there is a similar thing of such magnitude. Now, yesterday's Wall Street Journal published the rankings of university business schools, and BYU came in number one in the regional rankings among all the business schools of America (see "Recruiters' Top Schools," Journal Report on Business Schools: The Recruiters' Picks [special section], Wall Street Journal, 17 September 2007, R5). What a unique institution this is. Coupled with its associates in Hawaii and Idaho, it is a leader both academically and spiritually. How fortunate you are in the opportunity to attend here. Many others wish to come here but are unable to do so. The magnificent physical plant, together with a great faculty, makes it an academic jewel. But the end product of all of this, of course, is you—you thousands of aspiring young scholars. I agree that it is a grinding experience to earn a degree here. But the result is something of which you can be extremely proud. The by-product of your academic achievement will be a bundle of ethical, moral, and spiritual values. These are summarized in our thirteenth article of faith: "We believe in being honest, true, chaste, benevolent, virtuous, and in doing good to all men" (Articles of Faith 1:13). This is a short and simple statement, but its implications are enormous. We believe in being honest. We cannot cheat. We cannot do anything of a dishonest nature. We make a pledge with ourselves to be scrupulously honest in all that we do. This is not always easy. In matters of honesty, there are no shortcuts—no little white lies or big black lies. There is only the simple, honest truth spoken in total candor. And I think there is nothing more honest than good, hard work. I recently read a book titled No Shortcuts to the Top. It is the story of Ed Viesturs. Ed has climbed Mount Everest six times and has reached the summits of the world's highest mountains without the use of supplemental oxygen. When asked how he did it, h
1,397 Views
Merrill J. and Marilyn S. Bateman
|
Sep. 18, 2001
Elder Bateman: We welcome you to the first, official devotional of the 2001–2002 school year. We welcome a television audience that stretches across the United States and around the earth via satellite. One week ago Sister Bateman and I were prepared to address this same forum when tragedy struck New York City and the Pentagon. The events of that day have had an impact not only on the United States but on the entire world. Most governments now realize that no one is safe if terrorists are allowed free rein to develop secret networks and plan strikes against innocent people. It reminds one of the Gadianton robbers, who lived in a day long ago. The Book of Mormon indicates that they were experts in wickedness, lived in the wilderness, operated through secret combinations in the settled parts of the land, and were difficult to find and destroy (see Helaman 2:4, 11; 3:23). Could there be a more apt description of the enemy we are now facing? The past week has sobered everyone and caused us to reflect on the sanctity of life. The tragedy has made clear that, for many, the most important aspect of life is found in family relationships. In the midst of the rubble, rescuers have uncovered the dead clutching family photos. One man who escaped from the crashing towers indicated how grateful he was that he could hug his children one more time. The last words heard from a husband to his wife were "I love you!" And then there are men and women, young and old, waiting near the crash sites displaying pictures of their loved ones and hoping for a miracle. Someone has said that God will turn the evil into good. If the citizens of this and other nations recognize their frailties and turn to God for help, good will be the outcome. However, experience indicates that transformations are seldom permanent unless one is deeply touched by the Holy Spirit. I repeat my statement from last week: "You young people hold the power of peace for the world in your hands. The world depends on you." Christ depends on you. The message of the Master must be written in your hearts so that you may extend it to others. Christ's healing power is more than physical. He has the power to make a person whole, to heal the soul as well as the body. The magnificent painting by Carl Heinrich Bloch of Christ Healing the Sick at the Pool of Bethesda portrays Christ both as a healer and a comforter. The original painting, a wonderful gift, has just arrived on campus and will be the signature piece for the Museum of Art. We hope it will be a constant reminder of our heritage and our mission. Sister Bateman and I approach this occasion with concern, knowing and feeling the responsibility that is ours to teach and uplift. The theme we have chosen is taken from the seventh chapter of Moroni, wherein Mormon explains that "the Spirit of Christ is given to every [person], that [they] may know good from evil" (Moroni 7:16). Mormon then counsels the N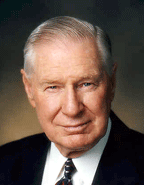 373 Views
James E. Faust
|
Nov. 1, 1998
My dear young friends, I speak to you as one who stands on the edge of eternity. From that perspective, I see you as the choicest spirits ever placed on the earth. The promises in your generation's patriarchal blessings, if you are faithful, seem to exceed the promises in Sister Faust's blessing and in mine. You know better than I the challenges of living in the world today. The "Teenagers' Bill of Rights" declares: "Please support us by believing in us rather than fearing for us" (Lia Gay, Jamie Yellin, and others, in Jack Canfield, Chicken Soup for the Teenage Soul: 101 Stories of Life, Love and Learning [Deerfield Beach, Florida: Health Communications, 1997], p. 307). I want you to know that I believe in you. I believe you can be in the world but not of the world. The Devil's Throat In the world there are many things of value to discover and much more to live for and hope for; however, as you move forward, you should be careful not to get too close to the Devil's Throat. As a young man I served a mission to Brazil. It was a marvelous experience. I have returned many times since then in my Church assignments. One of the wonders of the world in that great country is Iguaçu Falls. In the flood season, the volume of water spilling over the brink is the largest in the world. Every few minutes, millions of gallons of water cascade into the chasm below. One part of the falls, where the deluge is the heaviest, is called the Devil's Throat. Large rocks are situated just before the water rushes down into the Devil's Throat. Some of the braver Brazilians used to take passengers in canoes to stand on those rocks and look down into the Devil's Throat. The water above the falls is usually calm and slow-moving and the atmosphere tranquil. Except for the roar of the water below, there was no way to anticipate the danger that lay just a few feet beyond. A sudden, unexpected current could have taken the canoe into the rushing waters, over the cliff, and down into the Devil's Throat. While standing on a rock, a loss of footing or vertigo would have the same effect. Spiritually, a Devil's Throat is concealed beneath the deceptively calm tranquility of our lives and the world in which we live. Each of you has to have the strength and integrity not to get too close to the Devil's Throat. Bravado in the face of certain death, physical or spiritual, is foolhardy. At this time in your lives you sometimes challenge things, such as parents' authority, society, values, religion. When I was a lawyer I had a client who was a very successful contractor. But he challenged things. For instance, he argued that the earth is flat. I really think he knew it is round, but he would challenge it. By that time in my life I had traveled around the world. In World War II, I was assigned over a period of time to go west from San Francisco to Cairo and West Africa, and later to Brazil, and then home. But I knew th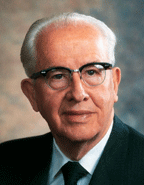 1,298 Views
Ezra Taft Benson
|
Oct. 13, 1987
Most Dear and Precious My dear brothers and sisters, what a thrill it is to look out over this congregation. I so much appreciate the collective power of righteousness that you represent. In this dispensation the Lord reiterated the commandment given at Sinai when He said, "Thou shalt not . . . commit adultery, . . . nor do anything like unto it" (D&C 59:6; emphasis added). From the beginning of time, the Lord has set a clear and unmistakable standard of sexual purity. It always has been, it is now, and it always will be the same. That standard is the law of chastity. It is the same for all—it is the same for men and women; it is the same for old and young; it is the same for rich and poor. In the Book of Mormon, the prophet Jacob tells us that the Lord delights in the chastity of His children (see Jacob 2:28). Do you hear that, my brothers and sisters? The Lord is not just pleased when we are chaste. He delights in chastity. Mormon taught the same thing to his son, Moroni, when he wrote that chastity and virtue are "most dear and precious above all things" (Moroni 9:9). My dear brothers and sisters, the law of chastity is a principle of eternal significance. We must not be swayed by the many voices of the world. We must listen to the voice of the Lord and then determine that we will set our feet irrevocably upon the path He has marked. Reaping the Consequences The world is already beginning to reap the consequences of its abandonment of any standards of morality. As just one example, recently the secretary of the Department of Health and Human Services in the United States warned that if a cure for AIDS is not quickly found, it could become a worldwide epidemic that "will dwarf such earlier medical disasters as the Black Plague, smallpox, and typhoid" ("HHS Chief Says AIDS Will Dwarf the Plague," Salt Lake Tribune, 30 January 1987, p. A-1). As the world seeks solutions for this disease, which began primarily through widespread homosexuality, people look everywhere but to the law of the Lord. There are numerous agencies, both public and private, trying to combat AIDS. They seek increased funding for research. They sponsor programs of education and information. They write bills aimed at protecting the innocent from infection. They set up treatment programs for those who have already become infected. These are important and necessary programs, and we commend those efforts. But why is it we rarely hear anyone calling for a return to chastity, for a commitment to virtue and fidelity? I recognize that most people fall into sexual sin in a misguided attempt to fulfill basic human needs. We all have a need to feel loved and worthwhile. We all seek to have joy and happiness in our lives. Knowing this, Satan often lures people into immorality by playing on their basic needs. He promises pleasure, happiness, and fulfillment.
Contact
BYU Speeches
218 University Press Building
Provo, Utah 84602
GIVE to Speeches
AFFILIATED SPEECHES
RELATED LINKS
CONNECT WITH US
Follow BYU Speeches
Subscribe